What is Flipping Houses?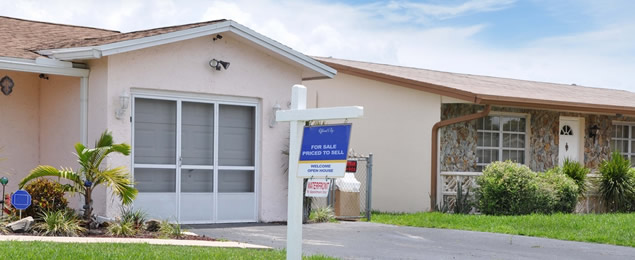 Flipping houses is the process of buying a property and then reselling it for a higher price in order to turn a profit. Buyers and investors who flip houses make a business out of seeking out homes that are available for sale for less than what they are actually worth. Sometimes a home may be in need of repairs, and is selling at a discount. But the most common way investors flip homes is to buy foreclosure homes, which sell at discount prices of anywhere from 30% up to 60% below their actual market value.
Flipping Homes and Foreclosures
Foreclosures off some of the best discounts on quality real estate available on the market today, which makes them perfect for buyers looking to flip homes for a profit. Since foreclosures are sold by lending banks and government agencies looking to collect an unpaid loan or tax debt, they are often sold for way below their actual market value. This is because the bank or agency usually only needs to collect a portion of a home's value. Best of all, foreclosure sales happen every day in every state across the country. By purchasing foreclosures at auction, from banks, or from government sources, investors can get a low price on a home they can turn around and sell at its full market value right away.
Profiting from Flipping Houses: Keeping Track of Costs
Flipping foreclosures for a profit isn't rocket science, but there are a few things to keep in mind. The bottom line is that you have to be able to sell the property for more than you put into buying it. This seems simple, but buying and selling homes can come with a lot of hidden costs that can cut into your profit margin. Closing costs, costs for appraisals, and property tax costs all factor into what you spend on a home, so you have to be sure to keep track of them. Another common expense for those flipping homes is repairs. A lot of times you can get an extra discount on a home in need of repairs, but you have to be certain that after you pay for the repairs, you can still sell the property for a profit.Also consider whether you'll be selling the property yourself, or whether you'll hire an agent. An real estate agent will take a cut of the sale, so if you hire one, be sure to factor that cost into your bottom line as well.
Profitting from Flipping Houses: Making Good Investments
It's also important to keep in mind that flipping houses effectively isn't just about buying the cheapest home you can. You need to look for foreclosures that are good investments. This means considering factors beyond the home itself. Is the property in a desirable neighborhood? How is the local economy and school system? You have to make sure the home you purchase is one that buyers will want. Again, you can often find gems in great locations that go unnoticed or may need a little fixing up. But the best bets are the properties that can sell themselves after you've purchased them for a discount.
How to Find Cheap Houses to Flip and Start Investing
The best way to start investing and house flipping is to simply look at what's available. The more listings you look at, the more homes you visit, the more you'll understand what kinds of properties are available in your area. It often helps to size up a few properties before you actually even intend to buy one, to get yourself into the practice of looking for the best values.
If you've never flipped a house before, we recommend starting simple. Buy a property you know will be desirable, and that you won't have a hard time selling. This means buying in established neighborhoods where other homes are currently selling.
The best way to get started finding foreclosures for sale is to consult an online foreclosure listings service. This will allow you to view listings for all kinds of properties right in your area, along with data and information about each property, so that you can compare price, type, and location. Also be sure to look ask agents or do research into what buyers in your area want. If you can find that in a foreclosure, then it could be the perfect starting point.
Care to be Taken before Flipping Houses
One thing all buyers must plan for is that they will be responsible for the costs associated with a home until you can flip it. This includes monthly mortgage payments and property taxes. Don't spend the maximum you can possibly afford on buying the home, because you may not have enough left over to take care of these expenses while you try to sell the property. Be sure to give yourself plenty of money to pays these costs, as well as plenty of time to sell the property. That way, you'll get the price you want, without having to worry about settling for a low offer because of you're pressured to sell the home before the bills run too high.
How to Finance
Securing financing to flip homes is one of the first steps you should take. Talk to your bank about what they can offer you for mortgages, but also be sure to talk to local credit unions. HUD and the VA can be good sources of financing information too. Even if you don't qualify for a HUD or VA-sponsored loan, incentives and low rates are often offered to investors who buy or fix up property in rural or urban locations.
Ultimately, the issue of financing will come down to the term of your loan. 30-year loans have stable interest rates, but are designed for those buying property for a primary residence. Interest rates and closing costs will be high, though down payment requirements can often be low. Investors often prefer shorter term loans with lower closing costs and higher down payments, because they come up with better up-front interest rates. Be sure to see what's available to you in your area, and work with a loan officer to match the right loan to your financial needs.
Search Homes by Top Cities: