What is the VA?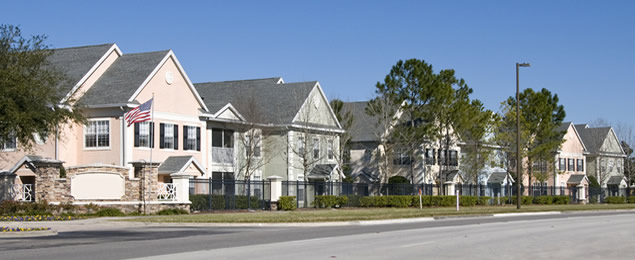 The VA is the Department of Veteran Affairs, a United States government agency devoted to assisting veterans of the armed forces. The VA helps veterans in many ways, but a big part of their work is providing low cost, low interest home mortgage loans to veterans, making it easier for them to secure and afford a home purchase. The VA provides mortgages for properties all over the country, but you'll often find greater concentrations of VA homes near military bases, or in towns and cities that have large military populations. VA homes can be different types of property, including apartments, condos, and houses.
VA Foreclosure Homes
Like any other mortgage lender, if the homeowner doesn't provide monthly payments toward their mortgage, the VA will pursue a foreclosure of the property. This enables them to sell the property to the public in order to get back the money lost on the loan, so that they can lend to another qualifying homebuyer. Unlike VA mortgages, VA foreclosure homes are available to the general public, and often for a substantial discount. VA foreclosures can be quite valuable, as they often range from anywhere between 30% and 60% off the normal market value of the property. This makes VA homes a great opportunity for anyone looking to save money on a home or a rental or investment property.
How to Buy Foreclosures from VA
Buying foreclosures from the VA starts by searching foreclosure listings. While the VA owns all VA foreclosures, they usually choose to have the sale of the property managed by a local listing agent. Once you find a VA foreclosure that interests you, the next step is to contact the listing agent in charge of the property. They will be able to give you the details on the home, arrange for a showing, and provide you with any additional information about the sale. It's important to have the property assessed by an appraiser before you buy, as well as a contractor if you think the property will need repairs. Knowing how much a home is worth and how much it could cost you in repairs are important parts of determining the home's true value and the savings you stand to gain on it. Once you're ready to make an offer, submit your offer to the listing agent. From there your offer will either be accepted, or you can negotiate further to get the deal you want.
What about Financing?
The VA offers vendee financing to anyone interested in buying a VA home, provided they qualify for the loan. VA home loans are subject to the same restrictions as private mortgages, including requirements for income and credit history, as well as the ability to pay associated property taxes and insurance. However, VA vendee loans are not driven largely by credit score, unlike most other major mortgages, and down payments are often very reasonable. Owner occupant buyers can even qualify for 0% down payment, while those buying the property as an investment can qualify for as low as 5% interest rates. Veterans can apply to the VA to get specially subsidized mortgage rates. For veterans, buying a VA foreclosure can be a fantastic opportunity, because you can reap the benefits of discount foreclosure prices as well as special financing. The best way to learn about what VA can offer you as a veteran is visit www.va.gov and get in touch with a VA representative in your area.
VA Foreclosure Advantages
VA homes are just one of the many fantastic opportunities available on discount foreclosure homes. Learn more about foreclosures and search for foreclosure listings in your area with BankForeclosuresSale.com. We update our listings daily!
Search VA Foreclosures by Top States:
Search VA Foreclosures by Top Cities: