Abandoned Foreclosure Pets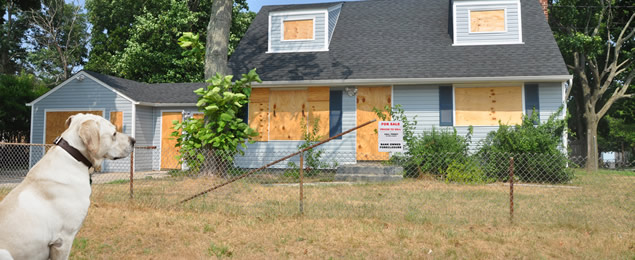 What should be done about Pets that find themselves without Owners due to Foreclosure?
Pets did not fail to make the payments; however, they too are suffering as they are abandoned.

Abandoned foreclosure pets are becoming a growing problem for communities all across the U.S. As the foreclosure crisis worsens, foreclosed homes are growing in number, moving quickly into the hands of realtors and the real estate market. People are declaring bankruptcy in droves and abandoning homes, properties, belongings and pets. These fleeing home owners usually move to apartments which do not allow pets or do not have the facilities to accommodate pets, especially larger ones, or they don't want the extra responsibility of feeding or caring for another soul. Their abandoned pets are left stranded in a house, yard or left to roam the property having to fend for themselves.
How You Can Help an Abandoned Pet

The Humane Society, as well as other abandoned animal shelters, is full of rescued pets needing adoption. The "adopt a dog" or cat inventory has reached all time highs due to HUD foreclosures and REO lender drop offs. People offering a loving home to these orphans are needed desperately before they are euthanized. Because of the overwhelming numbers, it is virtually impossible for these shelters to provide proper care and attention to all of these abandoned foreclosure pets. If you, or someone you know, would like to adopt an abandoned dog, cat or other pet, please call your neighborhood resource for pets available for adoption in your community. You can also check the classifieds in area newspapers or search on the internet for foreclosure associations that are donating these animals to shelters.
We Need an Abandoned Pet Law

Our government needs to step in and create an abandoned pet law. There should be legal remedies and additional funding available to the pet care industry that is shouldering this great burden. They mercifully take these abandoned pets in that have been left behind, afraid and alone, by owners who have failed to make proper arrangements following a foreclosure. These shelters provide food and limited shelter for a short period of time but the cost can be overwhelming. Additionally, if these same property owners ever buy a home again, they should be forced to make a donation to the animal association in their new community.
Animal Shelters by State
Find pets, especially abandoned foreclosure pets, to take home today from your area pet shelters. They will make wonderful additions to any residential community.