What is a Short Sale?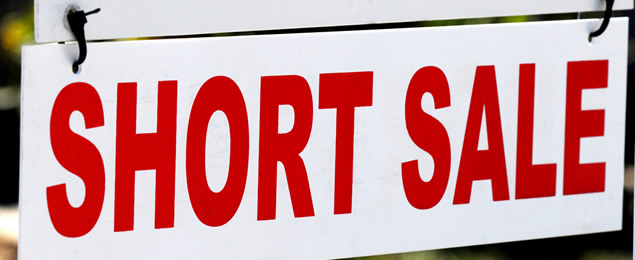 A short sale is when a property is sold for less than it is worth. In other words, the bank that owns the home's mortgage agrees to allow another party to buy the piece of real estate and pay less than what is owed on the mortgage.
How do properties become short sales?
Short sales are distressed properties. They most commonly happen when the market value of a property becomes less than what is owed on the mortgage.
For example, a home that has a $150,000 mortgage, but has a value of $120,000, is underwater. Once the homeowner falls behind, he or she can't sell the home for $150,000 to pay off the mortgage because he or she would only receive $120,000.
If the bank and homeowner agree, the home can be sold for less than the $150,000 amount. Otherwise, the home would go into foreclosure.
How can I find short sales?
Short sales can be found through real estate agents who specialize in short sales and distressed properties. They can also be found through other leads, like from the homeowner themselves, an attorney acting on behalf of the homeowner, 'For Sale' signs, and bankruptcy notices.
Short sale homes are more likely in neighborhoods and areas that have had significant price decreases over a certain period of time. They are also common in areas with high amounts of foreclosed homes in the vicinity.
How can I qualify for a short sale?
Qualifying for short sales is achieved by talking with the owner of a home's mortgages. Different lenders have different rules about how to go about qualifying for a short sale. The loss mitigation/risk management division of a lender is primarily responsible for dealing with houses that are below value and in danger of foreclosure.
Those interested in bank short sales should initiate discussions about selling the home short with a mortgage's loan officer. Typically, loan officers are more likely to approve an application if the following conditions are met:
The homeowner is close to or is defaulting on the loan. This is the major criterion. There has to be some danger of foreclosure. Banks don't want to add real estate owned (REO) homes to their ledgers, which is what happened when a home goes to foreclosure and doesn't sell at auction.
The home's value has decreased. This is one of the key defining characteristics of a short sale. Otherwise, it wouldn't be a problem to repay the loan by selling the home.
There is some hardship at play. The homeowner has to have some reason why he or she can't make payments. A bank won't go through the hassle of a short sale unless it has to as a way of getting some return on its investment. Without a hardship, the bank would rather the homeowner keep making payments.
How long is the process for qualifying?
The short sale process takes a bit of time - anywhere from one month to six months on average. The process length and steps required vary from lender to lender; there is no uniform standard. The process can be extended or prevented altogether if the homeowner can obtain refinancing help.
Buying short sales, by comparison, isn't as lengthy a process. Once you become aware of a short sale property, chances are it has already been pre-approved for a sale by the mortgage company. The process then entails negotiating over a final price with the seller and the bank.