Learn How to Buy a Foreclosure at Courthouse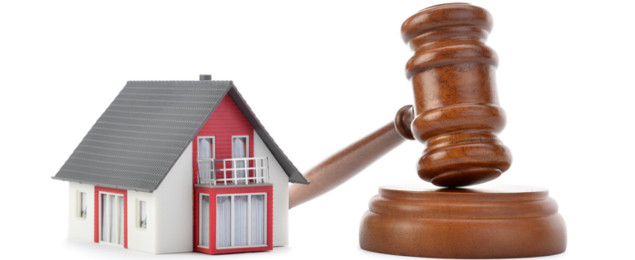 Buying a foreclosure at courthouse is a simple process if you know exactly what you are doing. Even though it may be your first time around, once you have a solid grip on the process everything will come together soon enough.
Buying Foreclosures at a Courthouse
There is no denying the fact that buying a foreclosure at a courthouse can be an intimidating process. Not only do you have to contend with others, all of whom are hoping to accomplish the same goal as you, but you must make sure you are paying a fair price for the property.
Before we get into the finer details of buying a foreclosed home at a courthouse auction, there is one detail you don't want to overlook: there is nothing more important than doing your research.
The biggest mistake you can make is showing up at a courthouse with minimal knowledge of the properties for sale. If you do this, you may miss out on a great deal or purchase a home that doesn't suit you. Either way, you are going to walk away disappointed.
Steps for Purchasing a Foreclosure at a Courthouse
By following these steps, you will be in position to participate in a foreclosure auction with the hopes of making a purchase:
1. Take the appropriate documents with you. This includes but is not limited to your research, financial documentation, and identification.
2. Make sure you have enough cash to purchase the property. When buying a foreclosure at auction, you may be required to have the full amount of the purchase price in the form of cash or a cashier's check.
Note: in some states, you are not required to pay in full at the time of purchase. Instead, you can own the home for a certain amount of money at auction, such as 10 percent, with the rest of the amount being paid with a specified time frame.
3. Know the finer details of the auction, including place and time. Courthouse foreclosure auctions are typically advertised in local newspapers. Additionally, you can contact the courthouse direct for more information on the dates and times of upcoming auctions.
4. Register as a bidder. Once you show up at the courthouse auction, register as a bidder. This will allow you to take part in the action.
Tip: make sure you arrive well in advance of the start time, ensuring that you have plenty of time to register and get any last details in order.
5. Verify ownership. If you are lucky enough to outbid the competition, be sure to obtain the necessary documents from the auctioneer verifying that you are the winner. Also, speak with the auctioneer about what you need to do in order to take possession of the property.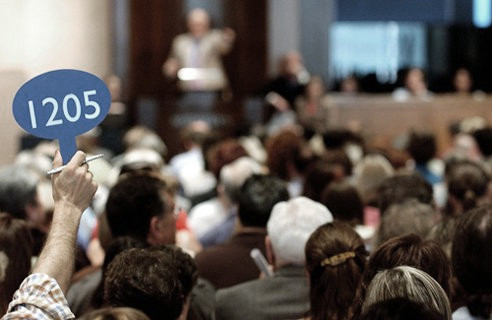 Once you're registered as a bidder, you can start bidding on foreclosed homes.
In some states, you can receive possession of the home immediately or within a week. In others, you may have to wait for the sale to be confirmed by the court.
Note: some states have what is known as a "redemption period". This is a time during which the previous owner is allowed to buy the property back from you at the amount paid at auction, plus fees.
Tips for Buying a Foreclosure at a Courthouse
Below are five tips for improving your chance of success when bidding on foreclosed homes at a courthouse auction:
Timing is everything. There is no reason to throw your hat into the ring when other parties are jockeying back and forth, pushing the price higher and higher. Wait for the bidding to die down and then jump in.
Don't shy away from the first few properties. Many people overlook the first few properties being auctioned, as they attempt to get a beat on the pricing patterns. With this in mind, you can often times swoop in on one of the first properties as a means of getting a great deal.
Dress for success. Since you are going to be in the public eye, you should dress the part. Don't show up for a courthouse auction in your pajamas. Dress like you are about to close a business deal. In some cases, this can even scare others away because they think you are representing the lender.
Take a professional (or two) with you. From a real estate agent who knows the market to a contractor who can discuss the cost of renovations, with these people by your side you will have an easier time bidding with confidence.
Rely on your research. As noted above, you want to do as much research before the auction as possible. This includes learning more about the homes for sale as well as the market in general. Once you have this information, let it guide you towards making the right decision.
Bid on a Foreclosure Today
When the time comes to bid on foreclosed homes, you need all the help you can get. With our listing service, you are in position to find and learn more about the many foreclosures in your area.
Our job is to help you locate the best properties. From there, you can decide which auctions to attend and how to approach the bidding.
Remember, when you use our service it is not uncommon to find foreclosure up to 60% below market value.