Bankruptcies and Real Estate Purchases
Bankruptcies are something no one wants to go through but, unfortunately, it is a fate that befalls many citizens. When a homeowner declares bankruptcy, they essentially agree to forfeit their property or have it repossessed. This occurs so the people to whom the homeowner owes money can have a way to collect their debt. One of the types of property most commonly sold off after a bankruptcy is real estate and, for homebuyers, these kinds of sales can represent an incredible opportunity.
What Bankruptcy Means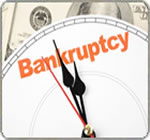 Depending on the laws concerning bankruptcies in the particular region, bankruptcy may occur over a differing period of time with different rules and stipulations. It's best to consult with a local attorney or lawyer to get the most accurate information possible about your area before you begin looking into buying bankrupt real estate. Generally, the process begins in bankruptcy court where lawyers will argue over the settlement as it pertains to the debt owed. When a homeowner declares bankruptcy, they may do so to varying degrees, allowing them different rights. Depending on whether they file for chapter 7, chapter 11 or chapter 13, they may be able to keep some or none of their property.
How Homes are Sold

Since a homeowner declaring bankruptcy will be unable to make good on any loans they have, the items under loan are generally repossessed and sold. When it comes to real estate, the process by which homes are sold is very similar to foreclosure. They are sold off to settle a debt and, therefore, many properties go for much less than their actual value. This can be a superb opportunity for homebuyers looking for a deal—many people buy homes in bankruptcy for up to 50% off what they are actually worth, creating fantastic value.
Finding Homes

There are all kinds of bankruptcy and foreclosure homes sold every day, whether it's by the federal government or a local bank. At BankForeclosuresSale.com, we scour public records and other sources to bring members thousands of great properties from California to the District of Columbia at extremely low prices. Come get the help you need and perform a search for a great bankruptcy home in your area to find great savings!
Search Foreclosures by Top Cities