Find Repossessed Homes for sale now
Homes up to 60% below market value!
What Are Repossessed Homes?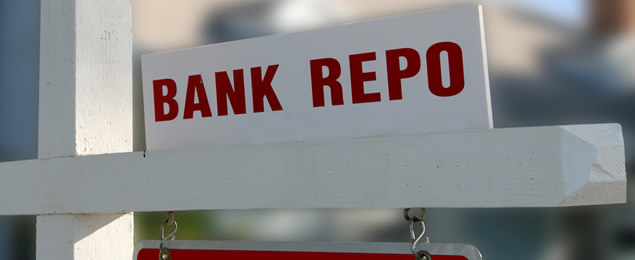 Across the nation, hundreds of thousands of repossessed homes exist. These repo homes form some of the best opportunities for homebuyers and real estate investors alike to find cheap homes for sale.
Repossessed properties are any residential properties that seized by the owner of a mortgage. You can have traditional houses or even repo mobile homes - any property used as a residence. (All repossessed houses are considered foreclosure homes until they fail to sell at auction; at that time, they are called REO homes.)
Common Types of Repo Houses

One of the most common types of repossessed properties involves bank repossessed homes for sale. These properties were taken back by banks when their owners could not make mortgage payments. Banks list and sell these properties to recoup their losses.
Government repo homes are those that are backed by a government guarantee, or a government loan. Several government agencies help people purchase homes, which is why many discount properties are owned by state and federal governments.
HUD homes are owned by the Department of Housing and Urban Development (HUD). These repossessed homes for sale generally were purchased with FHA loans, whose owners defaulted and could not make payments.
VA homes are homes that were purchased with VA loans, that are available solely to service-members and their dependents.
Finally, there are listings owned by Fannie Mae and Freddie Mac, two agencies that purchase - and thereby own - thousands of mortgages.
Understanding the Home Repossession Process
The first step in the home repossession process is a late payment. Afterward, lenders send a Notice and Demand for Payment which calls for the sum of the owed amount, plus interest and fees. If the homeowner does not oblige, the lender can pursue foreclosure.
The foreclosure process begins with a Notice of Default sent to the homeowner. A Notice of Sale is then sent after a certain amount of time (depending on the state); this is roughly equivalent to a lis pendens filing in a judicial foreclosure state. In non-judicial foreclosure, lenders can then put the real estate parcel up for sale at courthouse auctions. In a judicial foreclosure, the property can be auctioned off with a judge's approval. (See our Foreclosure Laws Page to know more about Judicial and Non Judicial Foreclosures).
How to Buy Repossessed Homes for Sale
Those who want to find and purchase repo homes for primary residences, second homes, or vacation property can consult foreclosure listings. BankForeclosuresSale.com, for example, is an online database of listings for the first time home buyer or experienced real estate investor, with repo homes for sale in New Jersey, Michigan, California, Florida and Arizona - and anywhere else.
The actual purchasing goes on at a courthouse auction in the county in which the house is located. Some counties conduct online auctions. To purchase a home, it is recommended to conduct thorough research and offer a price below market value but high enough to not be immediately dismissed. Selecting homes in good neighborhoods, next to solid schools and amenities, is a good way to lock in value and purchase homes that are likely to appreciate in price quickly.
Offer fairly, leave room for negotiation, and pick your property carefully before bidding.
Advantages of Investing in Repo Houses for Sale
Repo houses for sale are advantageous for investors and home buyers for many reasons - mainly that they are very affordable compared to other, non-repo homes. The price discount could be as steep as 75-80% or more in some areas. For those interested in home flipping, the low price allows you to lock in high profits. Also, you can flip the home more easily because you do not have to list it for as much in order to make the same profit margin.
Furthermore, the money you save on the initial purchase can be invested in the home to make it more attractive to you and your family, as well as anyone you sell it to later.
What About Repo Homes for Sales Disadvantages?
The only disadvantage some people cite when it comes to buying repossessed homes and cheap houses for sale is repairing a fixer upper. However, any repairs needed are well worth the time and money put into them when you consider how much value you are getting on the purchase. Buying a home significantly below market value saves you tens of thousands of dollars. Cheap homes, most of the time, equals big savings.
Repo homes offer some of the best, most affordable housing around. Become a member of BankForeclosuresSale.com and begin profiting like countless other home buyers and investors already are, today!
Find More Related Information

Search Bank Foreclosures by Top Cities