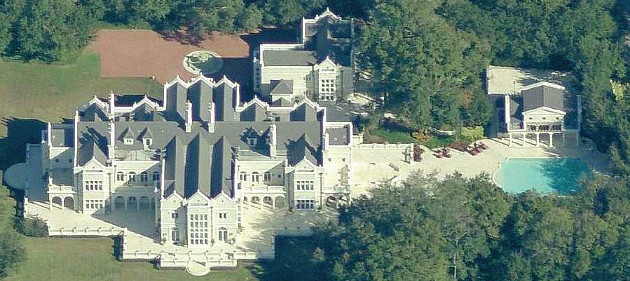 What makes a high-end, ultra-expensive mansion in Florida not sell?
It turns out, the home was too luxurious!
A 29,000 square foot Jacobean style manor, once the largest in the Tampa Bay area, was on the docket for an online foreclosure auction on December 18th, with bids starting at $100, and a minimum accepted price of $6.9 million. The home, built in 2004 and modeled after a 17th-century palace was formerly owned by now-bankrupt gold dealer Mark Yaffe.
The palace was first placed on the market in 2009, with an asking price of $25 million. Due to lack of interest from buyers, the price was then slashed in half and listed again at $12.5 million. Months passed, and interest never grew; leading to the eventual auction. Only one lowball bid was placed, by a home flipping company. The accepted price was still not met, and Bank of America retained ownership of the house for a mere $258,500. Unfortunately for the bank, the Yaffe's still owe around $10 million on the home in principal, interest, and taxes.
Luxurious Amenities May Have Made the Home More Difficult to Sell
Sitting on 6 acres in Tampa's elite Avila neighborhood, the mega mansion boasts over 15,000 square feet of terraces alone. The lavish palace also houses 10 bedrooms, and 13 bathrooms, and an array of other unique eccentricities.
Some of the extra features include 14 fireplaces, a wood paneled library, a marble grand double staircase, ballroom, wine cellar, and even a marble basketball court. Of course, the grounds also feature an incredible pool with spa and pool house as well.
With all of its incredibly unique amenities, it's not entirely surprising that estate saw such a huge discount rate; let's face it, everyone isn't looking for a ballroom.
Plus, buyers who have enough cash to spend on these big homes want their dream, not someone else's. It turns out that these lavish amenities actually hurt the home's chances to sell.
There's Still Hope If You're In the High End Market
If you happen to be in the market for an ultra high end home, don't get upset at your loss; Bank of America hasn't stated any plans for the property. Additionally, homes valued at $5 million or more saw an astounding 61% increase in total foreclosures, year over year this past October.
This past year, some of the most luxurious homes have come into the market, like Alex Rodriguez's condo in Miami. If you're truly interested in this niche real-estate market, try searching for properties in Florida or California, states hit hardest by the crisis. Now's the time to buy, especially if you're looking for a luxurious estate for pennies on the dollar!