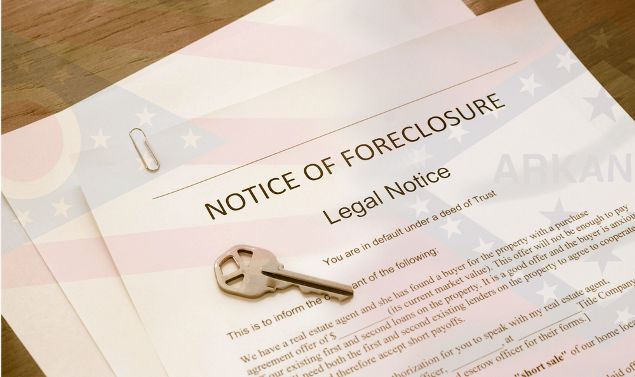 When it comes to foreclosure, there are a variety of situations in which the homeowner knows of the upcoming repossession as a result of delinquent mortgage payments. Then, there are 76-year-old veterans who are at risk of losing their home due to a $134 tax lien. In between, there are those who finds out after the foreclosure filing that their home is at stake and still there are commercial properties at risk.
As many have learned over the years, those facing foreclosure can range from those with an income barely above the poverty line to the rich and famous.
Currently, an Ohio mayor found out his home is in foreclosure – after the filing – and a large building in Jonesboro, Arkansas is at risk.
Ohio Mayor Learns of Unexpected Foreclosure
Imagine buying a property with your girlfriend – then you break up and move out of the home, but she remains and continues the mortgage payments. Four years pass and your name is still on the deed and you are alerted that the property is in foreclosure.
This is exactly what is happening to Akron Mayor Don Plusquellic in Ohio.
The couple bought the home in 2008 for $268,700. They financed $255,265 of the home. According to Wells Fargo, the lender has not received mortgage payments since April of this year. Mayor Don Plusquellic and his ex-girlfriend still owe $238,956 (plus interest) on the mortgage. The home currently has a value of around $240,000.
The shocked mayor says that over the last four years the home has been put on the market two times, but also points out that he was not made aware of the pending foreclosure until now. Apparently, he is currently considering his options and trying to decide how he will handle this unexpected issue.
The MBC Plaza in Jonesboro, Arkansas is at Risk
Back in 2008, the Metropolitan National Bank loaned MBC Holdings $5 million. MBC Holdings used their property on Highland Drive as collateral in the deal. Apparently, the Metropolitan National Bank has been seeking final payment since February 2011. Despite extensions and modifications, MBC Holdings has failed to pay back their debts.
A recent judgment was made in favor of The Metropolitan National Bank for $4,814,429 (plus interest and additional costs). MBC Holdings and the MSB Family Limited Partnership had ten days to satisfy the payment or the Jonesboro building will be auctioned to the public.
This case is still pending since the timeline has passed and nobody knows whether the debt has been paid or not and therefore whether this property will hit the auction block in the near future.
In short, foreclosures are still occurring throughout the country with a mayor in Ohio and a building in Jonesboro being two of the most recent high-profile foreclosure cases.