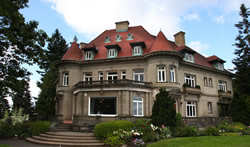 Many federal and state officials extend their support to help alleviate foreclosure on many United States citizens in a combined effort with federal programming to provide foreclosure relief. Tim Collette of Oregon is fighting to keep his home until his 20-year-old son returns home for 15 days from serving in Iraq, a brief trip before he goes back to Iraq to finish his deployment. Chase bank has scheduled a foreclosure and Collette is doing all he can to at the very least delay the process until he can allow his son to receive much-needed rest and comfort. The kicker? He was following Chase's advice.
The bank advised this Oregon resident to miss two payments on his home loan in order to meet qualification guidelines to pursue a home loan modification. All of this to find out that he was denied approval for the loan modification and is now facing a pending foreclosure. However, like many others facing foreclosure, Collette and his son are not alone! Oregon senator Jeff Merkley and Economic Fairness Oregon are fighting to help this man keep his home by passing beneficial legislation.
Help is available throughout the country, not just in Oregon. Minnesota has recently received word that they will obtain approximately $3 million to assist with providing their resident's foreclosure counseling. This exceptional program will provide information to anyone within the state facing foreclosure, including financial information to help these individuals keep their homes. Luckily, many programs like these are being developed around the country to help combat unemployment—the root cause of the increased number of foreclosures.