In what is no surprise to anyone who has followed the housing market for the past few years, the number of foreclosure filings increased nationwide in October, the third month in a row, by 7%. Even though the overall foreclosure rate is still down 31% year over year, the monthly increase is a troubling portent of the future for the housing market and foreclosures in general.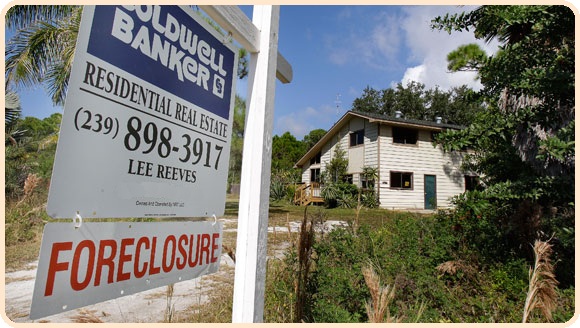 Approximately 230,678 properties in the U.S. received a foreclosure filing in October, which represents a rate of one out of every 563 homes in the foreclosure process (consisting of being scheduled to sell at auction, being repossessed by the bank, or having a notice of default filed against the property).
All signs point to a growing upswell of foreclosure activity, like that predicted earlier in 2011 when experts warned of rising foreclosures and even more foreclosed properties for sale across the nation. The main force behind the movement is the year-long conflict involving faulty foreclosure practices, like the now-notorious practice of robo-signing mortgage documents and wrongfully or erroneously foreclosing on properties across the country.
As a result, hundreds of thousands of homes that should have faced foreclosure in 2010 or 2011 weren't, and are expected to instead hit the market one year later, in 2012.
Additionally, the number of homes that entered the foreclosure process reached a seven-month high in October, a sign that lenders are beginning to once again initiate foreclosure proceedings against these properties in an effort to cut their losses and recoup as much as possible from a bad loan.
The uptick in foreclosures lately has touched off a new debate among experts about the proper role of the government in the market. Some hold that the government should pull back on efforts to stabilize – or interfere with – the market; others believe that only measured and responsible responses, like loan modifications and principle write-downs, will be able to slow or stop foreclosure and restore activities to a more manageable pace.
It is estimated that the uptick in foreclosures over the next year could result in price drops by 10% or more over the next 12-18 months across the country.
The federal government's new mortgage loan refinancing initiative could help to quell new entries into the market, but the massive backlog of home foreclosures would first have to be cleared for prices to have an incentive to rise. Whether or not that will happen in the foreseeable future is still anyone's guess, but current evidence indicates low prices and cheap interest rates will remain in place for now.