Pending home resales dropped in October due to continued foreclosures, according to analysis by 34 economists interviewed by Bloomberg News. Pending resale index is viewed as a major economic indicator because it monitors home resale contract signings. Sale closings are usually accomplished about two months later, when the sales are counted as existing-home sales in real estate reports.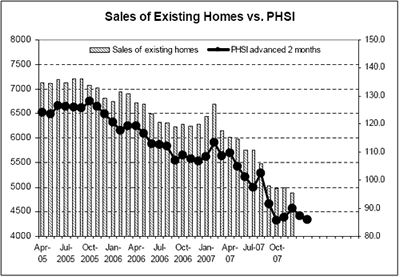 In a welcome development, the National Association of Realtors has announced that the pending home resale index has gone down in November by only 0.5 percent. Although the decline is the index's third consecutive drop, the decline is much smaller than the previous month's drop.
Historically, the sale of previously owned houses accounts for nearly 90 percent of the housing market and the sale of new houses accounts for the rest. Both of these types of sales declined in October and November, with the sale of new homes falling to its lowest mark in 17 years.
According to the Mortgage Bankers Association, one in ten homeowners became delayed in monthly payments or was in foreclosure during the third quarter of 2008. This default rate has led to the highest number of foreclosed properties nationwide in 29 years, plunging the housing market to its lowest level. Real estate businesses, especially home builders, sellers and insurers, have been struggling for the longest time and have contributed to the high rates of job losses.
LandAmerica Financial Group Inc., considered the country's third largest title insurer, was forced to file for Chapter 11 bankruptcy filing after suffering four consecutive quarterly losses largely due to the foreclosure crisis.
President-elect Barack Obama has promised to help troubled homeowners and slow down the rate of foreclosures after his assumption to the country's highest position in January 2009. It is expected that Obama will use the $350 billion remaining in the foreclosure prevention fund approved by Congress in October 2008 to start his own economic rescue efforts.