What Are Foreclosed Townhomes?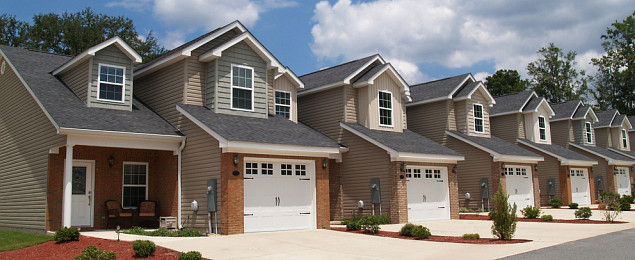 The definition of a townhouse is as follows: a home that is in a row and attached to adjacent homes - often sharing a common wall. These properties can be single-story or two-story. The townhouse definition is the same as the definition for a row house, since townhouses and row houses are the same thing. Therefore, foreclosed townhomes are properties that have been foreclosed upon due to the owner's delinquent mortgage payments.
Advantages of Buying Townhouse Foreclosures
There are various advantages of buying townhouse foreclosures. First and foremost, a townhome for sale - even luxury townhomes - can often be purchased below market value, making them great investment opportunities. Second, townhome foreclosures are versatile, and can be great for everyone from first time home buyers to seasoned investors.

Even though townhouse foreclosures can often be purchased for cheap (below market value), the true advantages depend upon whether you are looking to flip, rent, or live in the property. Therefore, make sure you determine your purpose in purchasing a townhouse for sale and then determine which specific advantages these discount properties offer for your investment purposes.
How to Buy Foreclosed Townhomes
When looking to buy or invest in foreclosed townhomes, it is essential that you first take into consideration your purpose. For example, are you looking to purchase the property as your primary place of residence? Or are you buying the property for investment purposes such as flipping the property or renting it out for income? The purpose of your purchase is essential in understanding what is important to you as the buyer.
For example, if your purpose is to live in the property yourself, then you will want to make sure that the home meets your needs and will be ready for moving in on your timeline. On the other hand, if you are looking for an investment property, then you may wish to determine which townhomes for sale will be easiest to market to others who are looking to rent or buy a townhome.
Regardless of your intent, the local amenities and location should play a huge role in your decision. Since townhomes often share some local amenities, it is important for you to find out what amenities are nearby. Similarly, the location of the property is just as important when shopping for townhome foreclosures for sale as it is when purchasing any other type of real estate. Therefore, make sure to learn more about the local area - attractions, school districts, etc.
Here are five easy steps for those wondering how to buy foreclosures (including foreclosed townhomes):
Determine Your Purpose: The first step is for you to determine the purpose for your purchase - living, renting, or flipping. In this stage, you should also determine which areas of the country are of interest.
Find Foreclosure Properties: The second step involves actually searching for foreclosed homes. More often than not the quickest and easiest way to find foreclosures across the country is to utilize foreclosure listing services.
Investigate the Property: After you create a list of properties of interest, you should then investigate the properties - visiting them and investigating them both inside and outside if possible as well as checking for title liens on the homes you are particularly interested in purchasing.
Obtain Financing: Once you determine which homes are of interest, it is them important for you to secure financing for the property. More often than not a pre-approval letter will go a long way in helping you stand out among others who are expressing interest in the property.
Make an Offer: After you have completed the steps above, the final step involves you contacting the owner (or listing agent) and making an offer on the property.
Three Hot Tips for Home Buyers and Investors Looking for Foreclosures for Sale
Tip #1:Utilize foreclose listing services. These listing services help you significantly reduce the amount of time it takes for you to find properties that fit within your criteria. Plus, you can utilize filters to search for specific types of homes, locations, and home features.
Tip #2: Understanding the foreclosure process. Most people start purchasing a foreclosure for sale without first understanding the foreclosure process. Taking the time to reach the foreclosure process and local state laws involving foreclosure can help you better understand what to expect.
Tip #3: Take into consideration the cost of repairs. Since most foreclosure properties are sold "as is", it is essential that you calculate the estimated cost of repairs. The purchase price plus the cost of repairs will inevitably be how much you have invested in the property; therefore you must exceed his number in order to be positioned to make a profit.
Ways of Investing In Foreclosed Townhouses
There are many reasons to purchase foreclosed townhomes, ranging from creating a townhouse restaurant and flipping houses to turning the investment properties into townhomes for rent. An investment property is simply a property that is used to provide income. Therefore, you can rent townhouses to families, college students, businesses, or anyone else looking for townhouses for rent. This way of investing in foreclosed townhouses can help you obtain a consistent monthly income from the rental property.
On the other hand, you can purchase townhomes or twin townhomes and make minor to moderate renovations and then put them back on the market in an effort to make a profit - which is known as house flipping.
Both of these investment opportunities can prove to be profitable; however, you must know what you are doing and find the townhomes that best meet your investment needs.
If you are a potential home buyer or investor wanting to purchase foreclosures, then you may wish to consider foreclosed townhouses. These properties are great for those looking for a new home or investors interested in house flipping or renting townhomes out for a profit.