What are Foreclosed Modular Homes?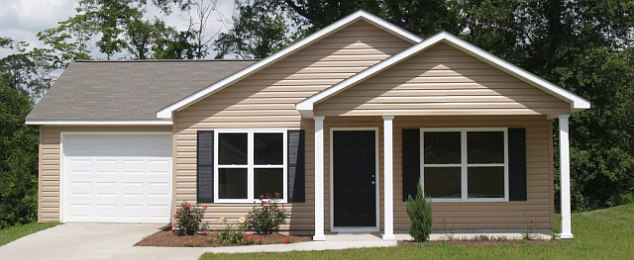 If you are asking yourself "What is a modular home?", then rest assured you are not alone. Due to a lack of understanding of what modular homes are, some people may shy away from cheap modular homes simply out of a misunderstanding of how modular homes differ from other properties. After learning more about these homes, you may find yourself actively searching for a modular home for sale when looking for your next family home or investment property.
Modular homes are factory-built homes in which the pieces of the homes are built at an indoor facility and then are transported to the build site to be assembled. These properties are only called modular homes based upon how they are built. Foreclosed modular homes are simply modular homes that have been foreclosed upon and are therefore often able to be purchased below market value - providing many with an opportunity to purchase affordable modular homes.
Differences in Modular Homes, Mobile Homes, Stick Built Homes
When buying a foreclosed home (or any home for that matter) it is essential that you understand what type of home you are purchasing. Specifically, it is essential that you understand the difference between modular homes, mobile homes, and stick built homes.
Modular Homes: Modular homes, which are also often referred to as prefab modular homes, are homes in which sections of the homes are built at an external facility and transported to the build site. These homes always meet and often exceed local building codes and are placed upon a solid foundation. In fact, the only difference in these properties and stick built homes is the fact that sections of the home are built off-site.
Mobile Homes: Although modular homes and mobile homes are both referred to as prefabricated homes, there are some key differences. Mobile homes are built almost entirely off site and are transported to the site and although they can be placed upon a foundation, most of them are not. Unlike modular homes, these properties are built to HUD standards and therefore may not always meet local building codes. Like modular homes, you can often find cheap foreclosed mobile homes on the market.
Stick Built Homes:Stick built homes are built completely at the build site and are built (like modular homes) to meet local building codes.
How are Modular Homes Built?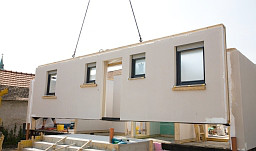 When buying foreclosed modular homes, you may be wondering how a modern modular home is built, as well as if all modular homes are built alike or if there are custom modular homes on the market. Modular home parts are often called "modules", but are sometimes called "boxes". These sections are built at the factor and undergo extensive quality control to ensure that the modules are built to perfection. Once the modules for the home are built, the pieces are transported to the site on large truck beds.
At the site, these modules are assembled on a permanent foundation. At the end of the process, you have a customized home that is built to meet local building codes and that went through extensive quality control procedures to ensure optimal quality.
Can Foreclosed Modular Homes be moved from one Place to Other?
If you have been looking at used modular homes for sale, then you may be wondering if these are transportable homes - meaning that you can move them to another location. The short answer is no. A modular building transportation would be the same as trying to move stick built homes. Even small modular homes are built on permanent foundations.
Advantages of Investing in Foreclosed Modular Homes
When buying a modular home, there are several benefits for those looking for modular homes for sale for investing purposes. First, home buyers are often attracted to modular home prices because they are often more affordable than stick built homes. Second, those looking to buy a high-quality property may prefer modular home sales because of the quality control at the building facility. Third, when it comes to modular home sales, you can rest assured that the home meets (and probably exceeds) local building code. Therefore, investors often purchase modular homes that have gone through the foreclosure process at a discount and then are able to market the strengths of these properties when attempting to flip the home for a profit.
Cost of Modular Homes
The question "How much do modular homes cost?" is complicated because the cost of modular homes depends on a variety of things - including how large the home is and whether or not you are considering purchased foreclosed modular homes or new modular homes. In general, a new modular home costs about $60 per square foot. Fortunately, when buying a foreclosure property you can usually purchase modular homes for well below $60 per square foot, making these particular homes great options for those looking for discounted properties. The best thing to do before purchasing a foreclosed modular home is to look at a modular home price list and find out how much the property probably would have cost if it was built new, and then determine if the listing price is discounted enough to make it a good investment.
Foreclosed Modular Home Financing
When financing a modular home, most people wonder if it is different than financing a stick built home or if you have to utilize special lenders when looking to obtain modular home loans. Fortunately, modular home financing is exactly like financing a stick built home. Therefore, when wondering how to finance foreclosed modular homes, you go through the exact same process as when you finance any home purchase.