Making Money on Commercial Foreclosures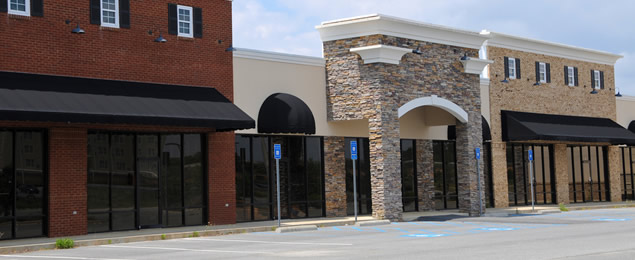 Whether you're looking to find a new space to expand your business or you're an investor looking for real estate that can earn you a profit, commercial foreclosures are the best way to buy valuable commercial real estate for huge discounts. Commercial real estate investment is a huge market. Businesses are constantly looking to expand or downsize, and buying real estate in vibrant business communities can be a great chance to earn profit or rental income. Commercial foreclosure properties offer the chance to make your investments even more valuable, since they sell for discounts of 30% to 60% off their true market value.
What are Commercial Foreclosures?

Commercial foreclosures are properties that have been put up for public sale because the previous owner defaulted on their mortgage payments. This can happen for a number of reasons, including bankruptcy or the previous business occupying the space simply going under. Commercial foreclosures are often available as government repossessions due to tax debts as well. No matter the source, commercial property foreclosures are always undersold. This is because the remaining mortgage debt or tax debt owed is often far less than the actual value of the property. To encourage a quick sale of the property and to make their money back, the government agency or mortgage lender will undersell the property.
Finding the Best Commercial Foreclosure Properties for Investment
The best way to start looking for commercial properties for sale is to consult an online listings database. With access to thousands of local commercial foreclosure listings in one place, you can see everything that's out there and narrow down your search fast. You'll find bank foreclosure listings, government foreclosure listings, and all kinds of other chances to buy commercial property for rock bottom prices.
Tips on Picking the Right Commercial Spaces
It's important to try to maximize the value of your investment. This means not only buying for the lowest price possible, but choosing the foreclosure commercial property that's going to have the best chance to sell or rent for a high value. Be sure to get an intimate sense of the community you're buying in. If you're buying a retail space, make sure it's well traveled, and in an area that's convenient for consumers to find it. The more desirable the location for a business, the more valuable the property. Taxes are also something to consider. Certain cities may have different tax requirements for businesses, so buying properties in places that have low tax requirements for businesses can be very attractive for future buyers. This often means buying at the edge of city limits, or in convenient suburban locations.
If you're buying office space, make sure it's in a desirable setting for a bigger business. This often means spaces in high-profile buildings near city or town centers, or in well-known office parks. The best thing to do when buying commercial foreclosures is to think like a businessman. How would this property be beneficial to you as a business owner? Chances are, if you can come up with several reasons, you'll have a much easier time marketing and selling or renting the property.
Securing Financing
Before you start zeroing in on commercial real estate foreclosures to buy, you'll want to secure your financing. Having your financing worked out ahead of time means you can jump on properties as soon as you decide they're valuable, which can make a huge difference in the fast-paced game of foreclosure investing. The good deals go quick, so you have to be ready to act. Talk to your local bank lender to see what you qualify for. Knowing how much you have available to you is also a good way to frame how much you want to spend. You shouldn't spend every penny you can, because you'll want to have a cash reserve to cover mortgage costs until you are able to sell the property, repairs, or maintenance costs associated with renting.
Buying a Commercial Foreclosure
Commercial foreclosures can be sold either through a public auction or as an REO property direct from a bank or government lender. Auctions are the most common type of foreclosure sale. All you have to do is show up an bid on the day of the auction. However, be careful to stay within your limits. Don't pay more than you want to for a property, or you'll cut into your profit margin and lose all the potential savings associated with foreclosures. There are plenty of deals out there, so don't pay more than what you should.
Buying direct from a lender involves a silent bidding process. Once you've visited and inspected the property and determined it's potential market value, decide how much you think you can save. If it's 30%, make an offer to the lender that is 30% below what you've determined the market value of the property to be.
In either case, once your bid is accepted, you'll have to provide proof of financing and probably make a down payment, depending on the stipulations of the sale.
Winning Investments for Businesses
You're not going to find value in a business space anywhere like you will on a commercial property foreclosure, and these opportunities are everywhere, often right under our noses. But since they're not sold by real estate agents, they're rarely advertised, which means you'll have to do a little digging to find them. Come search the database at BankForeclosuresSale.com and see what's available on the commercial property foreclosure market in your area! Get on the road to winning investments and real estate bargains!
Search Foreclosures by Top States
Search Foreclosures by Top Cities