Ohio Foreclosures for Sale
Homes up to 60% below market value!
For Example: "Woodbridge, NJ", "30349", "Ohio, OH"
Find Ohio Foreclosures for Sale
Click on the Map to Search for Ohio Bank Foreclosures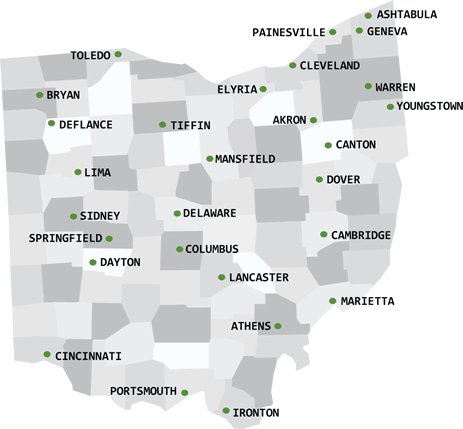 Latest Ohio Foreclosed Homes for Sale
Find Foreclosures in Ohio by Top Cities
Find Foreclosures in Ohio by Top Counties
Other Links
Incredible savings on Ohio Bank Foreclosures
Find cheap Ohio bank foreclosed homes for sale through our bank foreclosure listings service including Ohio government foreclosed properties, short sales, fixer uppers and real estate auctions in Ohio, OH. Click on the map and start your search for cheap bank owned houses, apartments or condos for sale through our lists of repossessed properties in Ohio.
Find Foreclosures in Ohio that Meet Your Needs
A good foreclosure listings service helps you locate the best home foreclosures in Ohio and gives you accurate and timely information. Bank Foreclosures Sale offers a huge database of Ohio foreclosed homes for sale including Ohio bank foreclosures, government foreclosures, HUD and VA repo homes, preforeclosures, bankruptcies, foreclosure auctions, tax liens, distressed properties and Ohio bank owned homes. Bank Foreclosures Sale offers the most reliable and up-to-date listings of bank foreclosures, including some great opportunities on foreclosures in Cleveland and foreclosures in Columbus, as well as other major cities in Ohio.