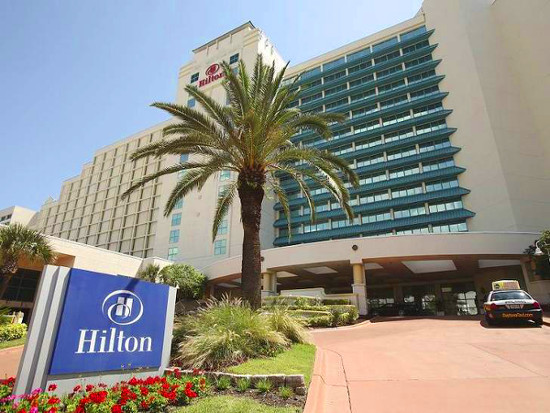 Today's real estate market is up and down, with most areas throughout the country progressing toward recovery. However, despite the progress some businesses are still having difficulties with paying their debts, with many of them facing foreclosure. For example, Fiesta Mall in Mesa, Arizona is currently facing foreclosure.
However, Mesa's Fiesta Mall is not the only major property within the United States that is currently facing foreclosure. In fact, two Hilton properties are headed to the auction block in the near future if their respective outstanding debts are not paid.
Antlers Hilton Set for November 19 Auction
One of the two properties that are at risk of being sold at auction is the Antlers Hilton hotel located in Colorado Springs, CO. The property was purchased in 2007 for $36.34 million with a 6.51% interest rate. Today, $36.35 million is owned on the property, which has a 2013 market value of only $26.1 million.
The property owner has until November 19 to pay off the outstanding debt or the property will be auctioned off. GEPA Hotel Owner Colorado Springs LLC, a Boston-based company, currently owns the hotel.
Hilton Daytona Beach Oceanfront Resort Hits the Auction Block Next Week
Antlers Hilton is not the only Hilton property that is facing foreclosure. The Hilton Daytona Beach Oceanfront Resort has an outstanding balance of a staggering $113.7 million and has a quickly approaching auction date of July 31.
Like Antlers, the owner of this property (General Electric) owes a lot more than the 2013 market value, which is only $43.5 million for the Hilton Daytona Beach Oceanfront Resort.
Despite the pending auction, the general manager thinks that everything will continue as planned, including the $20 million renovation that is planned for 2014.
If the property is auctioned off – as expected – then it will be interesting to see what the new owner plans for the resort hotel. The most likely scenario is that U.S. Bank will take ownership of the property next week once the auction is complete.
In short, big-named businesses are definitely not immune to foreclosure in the current real estate market. Currently two properties with the Hilton name (although different owners) are facing foreclosure. It will be interesting to see the result of these proceedings, including who will be the new owners and what they will have planned for these properties for the future.
Image source: news-journalonline.com