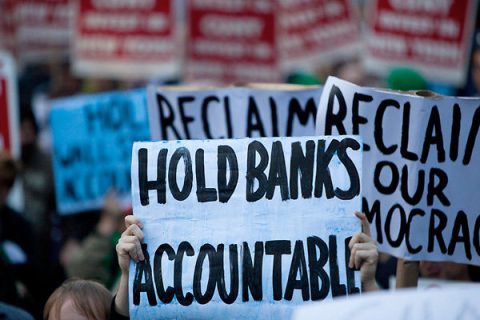 There are countless stories of homeowners who lost their homes to wrongful foreclosures throughout the real estate market crash and unethical lender behaviors. One result of the foreclosure settlement agreements involved paying victims via settlement checks; however, most of these checks were much less than expected, resulting in increased frustration.
The frustration targeted toward big banks is not anything new – quite the contrary. Over the years, many people have voiced their concerns about how these banks are merely receiving a slap on the wrist for the massive amounts of damage that these banks caused to homeowners across the nation.
Apparently the ridiculously-low settlement check payments have pushed many of these homeowners too far – leading to protests.
Homeowners Protest Against Banks
On Monday, many homeowners with homes at some stage of the foreclosure process camped outside the Justice Department in Washington, D.C. actively protesting their views that banks are not being prosecuted adequately.
There were 17 arrests made for obstructing traffic with the remaining protesters planning to camp out in tents throughout the night.
There were many protestors (400-500) present throughout the day with a part of the organization of the protest being attributed to Occupy Our Homes.
Protestors are calling for Attorney General Eric Holder to prosecute the big banks and "jail" them. Over the last few years there have been countless people who say the banks are too big to fail and too big to jail – basically insinuating that these banks can essentially get away with just about anything.
Holder has been quoted saying that banks are basically too big to prosecute because it would seriously affect the national economy. Homeowners who have lost their homes and suffered significantly over the years are fed up and are refusing to just step aside and allow these banks to continue getting away with their unethical behaviors.
The video below has more information about the DC protests:
At the end of the day, the protestors simply want the banks to be held accountable for all of the damage these banks have caused over the years to homeowners across the country. They want to be heard, to be compensated, and to have justice.
It will be interesting to see if other similar protests start to develop across the country and if these protests actually lead to banks being held accountable and being prosecuted adequately for the damage they inflicted on homeowners.
Image source: npa-us.org