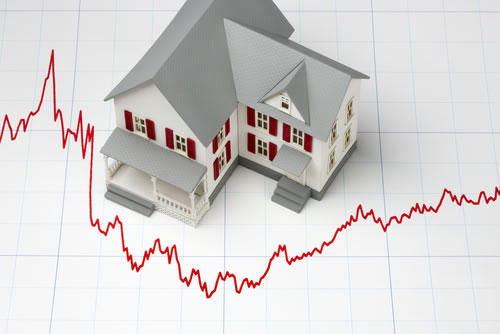 Latest foreclosure statistics indicate a promising development: the national foreclosure rate dropped by an impressive 32% from July 2012, one of the largest year-to-year decreases over the past five years.
What's more is that foreclosure starts – actions taken to initiate the foreclosure process, indicative of new foreclosure properties entering the national pipeline – dropped by an even greater amount (38%). This suggests that the nation's existing foreclosure pipeline has decreased overall by a significant percentage.
While this is good news, however, there are trouble spots. The monthly foreclosure rate across the country actually increased by 2% from June, and foreclosure starts increased by 6%. It must be said that June saw a 78-month low in foreclosures, though, so the 2% rate must be taken with a grain of salt.
Still, there are enough trouble areas across the country to give experts pause about declaring the beginning of the end for the nation's foreclosure problem.
Foreclosure Rates Tick Up Heavily in Several States
While most of the country appears to be recovering when it comes to foreclosure properties, a few states are noticing a completely different phenomenon.
In New York, for example, foreclosure starts went up by 27% year-over-year. In nearby Connecticut and New Jersey, yearly increases totaled 37% and 89%, respectively. Out west, Oregon experienced a staggering 137% increase.
None came close to matching Maryland's woes, however; the Old Line State saw a 275% uptick in foreclosure starts from the middle of 2012 to now.
Florida also saw its name in several familiar places. The Sunshine State continues to boast the nation's highest foreclosure rate, and nine of the nation's top 10 metro areas for foreclosure were located in Florida, including Miami, Tampa-St. Petersburg, and Daytona Beach.
Maryland Foreclosure Woes
It's not often a state supplants Florida or one of the other usual suspects (California, Nevada, and Arizona in particular) on top of a list, but Maryland did with its massive increase.
Even though Maryland's housing market is definitely recovering – median sales prices increased by 5.6% and the percentage of underwater homes is very low compared to the national average – the state's foreclosure rate is spiking.
According to state officials, the uptick is primarily a result of a huge backlog of delinquent loans in the pipeline that are just now reaching the courts. Maryland, as a judicial foreclosure state, has a clogged pipeline similar to New York, Florida, and other states with similar legal structures. Until these cases are processed, downward pressure will continue to be placed on the state's housing market.