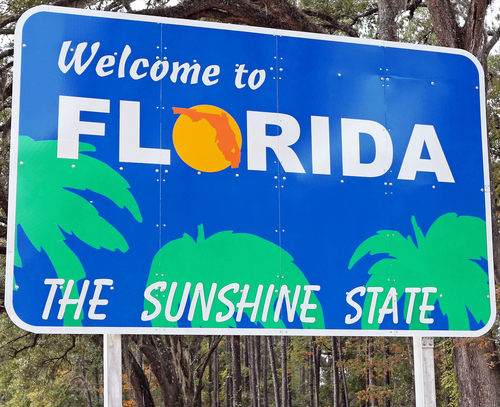 We all know the opportunity for huge savings and returns in investment that foreclosed homes offer, but where in the country should you begin looking for them? We have the tips you need – and Florida might be the best place to start.
According to the latest data, 58,939 homes in the U.S. started the foreclosure process in October. Specifically, the states with the five highest foreclosure rates for last month are: Florida, Nevada, Maryland, Ohio, and Illinois.
Florida regained its status as the state with the most foreclosures, after holding down the number two spot for the last two months. The state saw a 22% increase in foreclosure starts from September to October. Estimated at an average of one in every 332 homes in the state had foreclosure filings last month.
The Florida foreclosure market is particularly attractive for investors. Many major metropolitan areas in the state are posting some of the nation's highest foreclosure numbers, including Miami which is currently at the top of the list. Coming in a close second is Tampa, which had a year-over-year increase of 40% in scheduled foreclosure auctions.
Other key areas in the state include the greater Pensacola and Ocala areas, which both boast numbers of around one in every 400 homes receiving foreclosure filings. The tourism market, integral for the Florida economy, has also been consistently on the rise since the summer of 2010. Interestingly enough, certain areas of Florida have seen a drop in foreclosures due, in part, to a new foreclosure law designed to push existing homes in the pipeline all the way through.
The Florida market may also be attractive to investors because more homes have been flipped for profit in Southwest Florida than anytime since the mid-2000s when the trend first became hot. According to more data, 1,287 residential properties have been purchased and resold for profit within a six month window, in Sarasota, Charlotte, and Manatee counties just this year.
An analysis of the flipping phenomenon in Southwest Florida by the Sarasota Herald-Tribune shows that local flips generated nearly $23 million in gross profits in just the first nine months of the year. The demand for homes in Southwest Florida is also extremely lucrative, at about 14 points above where it was this time last year.
Now is the time to invest, with prices in the market rapidly appreciating, profits and savings are at peak levels since the beginning of the foreclosure crisis.