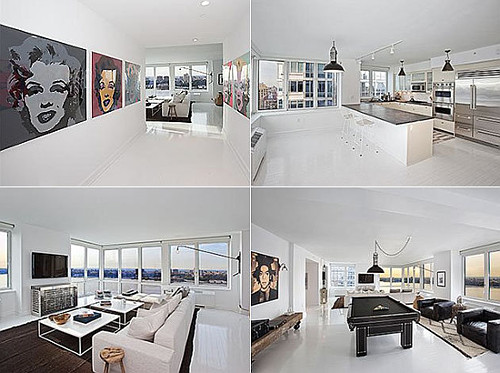 This year has been a great year for real estate. Home prices are up; foreclosure rates are down; and more homes are being listed.
This is true even for high-end homes with price-tags north of $1 million. We've actually seen more than a few sales records get shattered this year, and could see even more in 2014.
Here are a few luxurious high-end homes that made it through closing this year.
The Versace Mansion Finds a New Owner
Built in 1930, the ornate Versace mansion has witnessed a wealth of triumph and tragedy over the years. The latest bit of misfortune to befall the Florida palace was put on the auction block through foreclosure last year after being marked up at $125 million and $75 million without finding buyers.
This year, though, Jordache Enterprises – the holding company behind the Jordache fashion empire – purchased the property for just $41.5 million (a massive 67% discount from its original asking price).
This is not the only high-end, million-dollar foreclosure on record this year, either.
The Woodside Estate Sets a New Record
The Versace mansion actually wasn't the most expensive home purchased in 2013. That honor belongs to the Woodside estate.
Built in 2005, the Woodside estate contains 9,000 square feet of living space over nine acres in Woodside, California. While it was never officially listed for sale, the home was almost-secretly purchased in January, 2013 for a colossal $117.5 million by a mystery buyer whose identity has never been officially confirmed.
(Many suspect it is the CEO of Softbank, Masayoshi Son, who is worth $7.2 billion.)
A-Rod Flips Two Multi-Million Dollar Homes
The next two deals aren't worth nearly as much as the previous two, but are interesting because they provide examples of how a celebrity was successful with a real estate investment – something that isn't par for the course when it comes to high-profile movie stars and athletes.
Earlier this year, baseball star Alex Rodriguez recorded a $15 million profit by selling his Miami Beach mansion. Most recently, he listed a three-bedroom Miami condo for over a million more than he paid for it, which would give him a nice, tidy profit when it sells.
The year may be passing away, but there are still enough days left in 2013 to see more big, record-setting real estate transactions. Stay tuned!
Image source: sports.yahoo.com