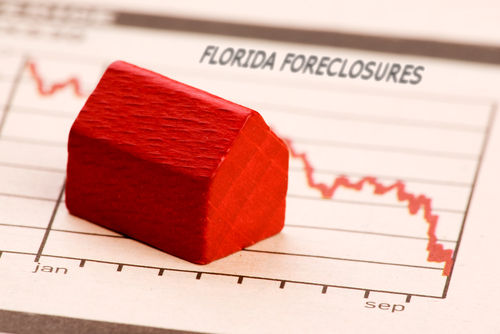 According to the latest figures, Florida no longer leads the nation in foreclosures. One out of every 383 properties in Florida is in the foreclosure process at some point, compared to one out of every 359 homes in Nevada. The fall is mostly due to a spike in Nevada's foreclosure process; foreclosures in the Silver State rose by 10.8% from August 2012 to August 2013 and a massive 104% from July of last year to this past July.
The number of foreclosure filings in Florida in August also dropped by 14% from July and 15% from August 2012. New filings were down by 65% in the Sunshine State.
With that being said, however, the other end of the pipeline saw an increase. There were 39% more scheduled auctions in August, and 48% more homes were repossessed by banks compared to this time last year. This may actually be a blessing, though, considering the fact that Florida's foreclosure pipeline is notorious for being clogged and overloaded with slow-moving properties that continue to depress real estate prices.
Miami remained at the top of the list of Florida metros with the highest foreclosure rate, followed by Tampa.
Fewer Foreclosures Filed Nationally in August
Across the nation, there was a bit of good news when it comes to foreclosure filings.
New foreclosure filings – which includes not only notices of sale, but also scheduled auctions and bank repossessions – fell by 34% from August 2012 to August 2013. Nearly 130,000 properties received filings, which is down 2% from July.
Several factors have contributed to the decrease in filings and rise in overall health of the market. Most notably, home prices have risen as a result of economic improvement, which helps dampen foreclosures since there are fewer underwater homeowners.
Also, existing home sales have risen, which helps to deplete inventory that further boosts home prices. Furthermore, mortgage rates, while higher than previous all-time lows, are still very small compared to historical averages, meaning lending is still quite affordable.
Foreclosures are still in the pipeline across the nation, though, and clearing the log-jam of distressed properties will take some time at current rates. This means that deals still exist for interested investors desiring to grab valuable properties at below-market prices and take advantage of the rising tide behind the real estate market today.