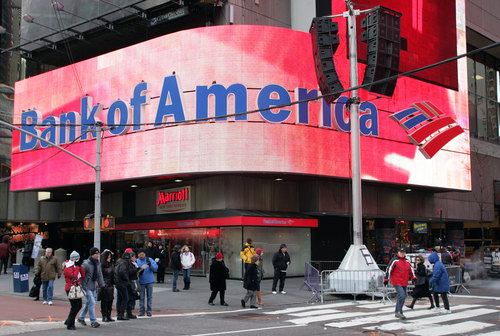 With all of the damage the foreclosure crisis caused to Bank of America's finances – and, most importantly, reputation – you'd think the bank almost wishes it would've never gotten into the mortgage business.
Now, the bank is taking major steps toward that direction.
Recently, Bank of America announced that it was selling the collection rights of another $100 billion worth of mortgages, right after announcing it would sell $300 billion worth of collection rights in a previous release.
This represents a total of almost half a trillion dollars' worth of mortgages that Bank of America has serviced over the years, a staggering amount of capital for which BoA earned handsome profits by administering.
While this isn't exactly the end of BoA's mortgage servicing department – the bank will surely continue to originate and service residential and commercial property loans for the foreseeable future – this does mark a major turning point from previous business practices.
What Bank of America Says and What They Mean
In response to this announcement, a Bank of America spokesperson said that the move was a standard part of the bank's strategy, one that has been followed for years. According to the spokesperson, "By reducing the size of our portfolio, we improve customer service capacity and resolve legacy mortgage issues and reduce risk in our portfolio."
There are a few points to take away from this simple statement.
For starters, banks do not particularly care about "customer service capacity". They care about profits, naturally, and if they think they can continue to make healthy profit margins on residential mortgages, they'll service as many as they can get – regardless of how it impacts customer service. The fact that they raise this particular point means you can believe the opposite: that the mortgage market for BoA has become unattractive to the bank.
Also, the "legacy mortgage issues" mentioned by the bank obviously involve issues that are probably very closely related to foreclosures, particularly the incredibly-damaging revelations we learned about Bank of America and its peers from the mortgage fraud scandal of the past couple of years.
The same goes for the risk in the bank's portfolio. Clearly, Bank of America execs see risk in the mortgage servicing industry – not necessarily because of market conditions, which are improving, but because of unknowns and legal concerns associated with the bank's deeply-flawed foreclosure policies and processes.
That leads us to question: Do the same processes still exist within the bank? If so, did the bank determine that profitability would not be as prominent without said processes, and elected to simply shrink its servicing portfolio instead of the alternative of providing real policy fixes as dictated by the mortgage fraud agreement signed last year?
Whatever the answers may be, the implications are intriguing. Bank of America is making a serious move, there can be no doubt about that. And it's safe to assume that foreclosures have something to do with it.
Image source: Northfoto / Shutterstock.com