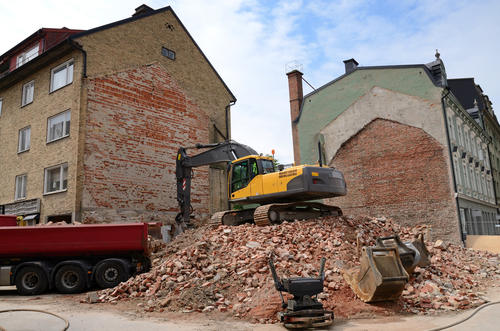 Created in 2010 by the U.S. Treasury Department, the Hardest Hit Fund was designed to use federal money – totaling $7.6 billion – to help the 18 states hit hardest by the foreclosure crisis. As a part of the plan, these states would create "locally-tailored programs" to help homeowners in local communities prevent foreclosures and keep people in their homes.
Now, however, a significant portion of that money is being used by a few of these states to do something different: tear down homes.
Michigan and Ohio are leading the trend and have already begun processes to demolish abandoned or unwanted homes in what the states view as an effort to control blight and fight falling property values. Michigan has already started; five homes were torn down in the Marygrove neighborhood of Detroit last week, and more are scheduled.
So far, Michigan has diverted $100 million from the Hardest Hit Fund into a new home demolition budget. The goal is to tear down 7,000 homes that are currently vacant.
Activists Strike at Changing Nature of the Program
The states involved may have their reasons, but some housing activists have called out the states and the Treasury Department for using the funds for something other than what was originally intended. One activist from the Neighborhood Assistance Corporation of America even states that the first priority should be to help homeowners stay in their homes, and this new direction changes that.
Others, though, claim that property values have to be protected in order to entice homebuyers to certain areas. Besides, according to one Treasury official, most of the money in the Fund will remain allotted to its original purpose.
To date, only $2.5 billion allotted to the Hardest Hit Fund has actually been claimed; the rest – $5 billion – remains in the fund until states claim it or 2017 arrives, whichever comes first.
Does it make sense for money from this fund to be used to demolish empty homes instead of help struggling homeowners keep their properties? It makes sense that empty homes lead to vandalism, falling property values, and a depressed housing market.
But if keeping homeowners in their homes and protecting homeownership is the ultimate goal, perhaps the money might best be used for that purpose – and could be used to offer, for example, more mortgage modifications that seem to be working.