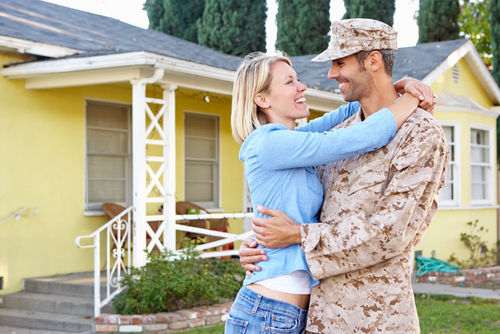 Home ownership is part of the American Dream – a dream that is becoming an increasing reality for active and retired military personal. The Federal Government has instituted programs which are designed to assist in the purchase of a home. They have also recently passed several laws to protect active soldiers from foreclosure.
Help to Buy a Home
The Department of Veterans Affairs (VA) helps service members, veterans and even eligible surviving spouses become homeowners. Though the VA does not actually write the loans, they do guarantee them, enabling lenders to provide loans with more favorable terms.
VA Home Loan Benefits
In order to qualify for a VA loan, the applicant must have a Certificate of Eligibility and the home must be used as their personal residence. VA Loans have several benefits over a traditional mortgage:
100% Financing – no down payment is necessary.
No private mortgage insurance (PMI).
Limit on the amount of closing costs you can be charged.
No pre-payment penalties.
Program Details
VA Loans can be used to purchase an existing home (including foreclosures and short sales), in the construction of a new house, adapt a home for a disabled veteran, improve home efficiency or even cash out the equity in a home to cover the cost of repairs, remodeling, education or paying off other loans.
The minimum amount which can be borrowed is $36,000 and the maximum is $417,000 (with some exceptions). Though a borrower can only have one active VA loan at a time, once the first loan is paid off, the VA loan can be reused on another property.
Assistance to Keep a Home
In the event that the homeowner/veteran/soldier is unable to continue to make their loan payments, Veteran Affairs offers an Interest Rate Reduction Refinance Loan. This program works to reduce the interest rate and thus the mortgage payment amount. There are no out-of-pocket costs, appraisals or credit underwriting.
If a serviceman bought a home before entering active duty, the Servicemembers Civil Relief Act (SCRA) protects their home. The SCRA is "intended to postpone or suspend certain civil obligations to enable service members to devote full attention to duty and relieve stress on the family members of those deployed servicemembers" which includes mortgage payments. Mortgage lenders cannot foreclose or repossess a property while a service member is on active duty up to 9 months.
There is a new bill, the H.R. 1842 – the Military Family Home Protection Act, which is designed to extend the SCRA benefits to all servicemen who bought their home after they entered into active service. It also protects a home against foreclosure as long as they are receiving hostile fire or imminent danger pay. If a military personal gets injured, any foreclosure actions are automatically frozen for up to 12 months.
It seems only fair that those who risk their life by serving in the Army, Navy, Marines, National Guard and Reserves deserve to come home to their own home and family without the threat of losing their home to foreclosure. Also those who have served in the past should not be forgotten as well. These programs are designed to do just that.