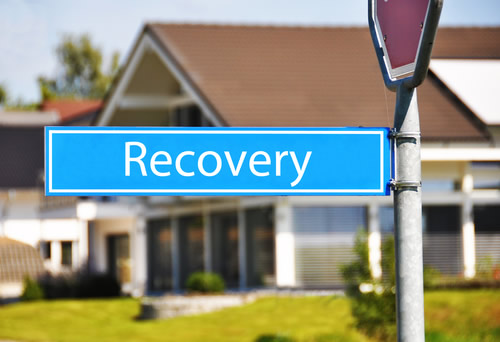 For the last several months the terms "real estate market recovery" have definitely been on people's radars. From predictions that the real estate market is slowly, but surely, making progress to projections of rising home prices throughout 2013, investors and potential homebuyers are finally starting to see the light at the end of the tunnel.
Reports for August real estate market happenings are finally in and the results are mouthwatering for everyone who is interested in more indications of real estate market progress.
All Signs Point toward Recovery
When determining real estate market recovery, it is essential to look at everything from home prices and new construction starts to existing home sales and foreclosure filings. Reports from August indicate that home prices and new construction starts are rising while foreclosure filings are declining.
Specifically, existing home sales jumped 9.3% in comparison to August of 2011. However, what is even more impressive is the 7.8% increase from July to August of this year. Overall, most areas are seeing a rise in existing home sales, with the exception of the West – which is still struggling with a high foreclosure inventory.
Similarly, new home construction is up 29.1% in comparison to the same month last year, while foreclosure filings and delinquencies fell to 10.91%.
A Look at Home Prices
Another key area to examine when trying to gauge real estate market recovery is home prices. For the last several months home prices have definitely started climbing. According to CNN, home prices from July to August rose 11%. In comparison to August of 2011, home prices are up a significant 17%. Clearly, home prices are climbing throughout much of the country, indicate very positive signs of a recovering real estate market.
However, we cannot just merely look at rising home prices; we must also examine home price projections. Analysts expect home prices to increase approximately 3.7% per year. The great news is that within 5 years home prices would rise significantly – making huge progress toward recovery, albeit gradually. At the same time, at that rate it would take until 2023 before home prices reach their peak level again.
However, these are just projections. Home prices could potentially rise significantly faster than the estimated 3.7%. Similarly, many suspect the peak home prices of 2006 were too high anyways; therefore, we may not reach that peak number within the next few years but we could still have a "recovered" real estate market.
These numbers taken together definitely indicate real estate market progress toward recovery, which is excellent news for everyone with an interest in the real estate market. However, it does mean that investors looking to take advantage of low home prices and record-low interest rates should act now before it is too late.
In the end, investors should hit the market now if they want to purchase foreclosures or other distressed properties on the market for well below market value, especially as home prices are quickly rising and the real estate market is steadily moving toward recovery.