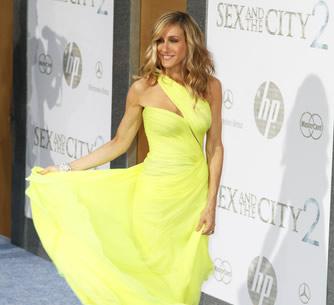 Sarah Jessica Parker, the proud owner of four Golden Globe Awards and two Emmys, is probably best known for her role in the incredibly popular television series Sex in the City and the corresponding movies.
After an extended romance with Robert Downey Jr., Sarah Jessica Parker she met and settled down with Matthew Broderick in 1997. The couple has beautiful children and several impressive homes – one of which is now on the market!
Manhattan's Greenwich Village Pad
Sarah Jessica Parker and Matthew Broderick purchased a beautiful home in Manhattan's Greenwich Village in March of 2011. The couple purchased the home for $19 million, but has apparently decided that they no longer need the home and has listed it on the market for nearly $25 million.
Why, exactly, would they list the home after only owning it for 18 months?
Although it is possible that the home was merely an investment property, especially since they never moved into the home but did provide some minor to moderate renovations, rumor has it that the house wasn't "private" enough for the famous couple.
Regardless of the reason, this stunning Greenwich Village Pad is on the market for nearly $25 million and can be yours if you have the bankroll.
Townhouse Details
When you think "townhouse" you more than likely think of a relatively small two-floor pad; however, this Greenwich Village home is not your average townhouse. Boasting five bedrooms, several full and half baths, parlors, a library, massive walk-in closets and dressing rooms, a vault, family rooms, and much more, this home offers far more than your typical townhouse next door.
The entire fourth floor is dedicated to the master bedroom and bathroom with a private terrace, dressing room, and massive walk-in closet.
Plus the home is in the perfect location, with quick access to everything from SoHo to Fifth Avenue.
If you are looking for a quiet, quaint little townhouse, then this is not the property for you. However, if you are looking for a massive townhouse with beautiful views, a perfect location, and immediate access to stunning gardens, then this may be the perfect property for you!
In the end, if you have a love for Sarah Jessica Parker, then you can be the proud owner of this stunning townhouse if you can shell out nearly $25 million; however, it is essential to note that the star and her husband never really lived in the home.