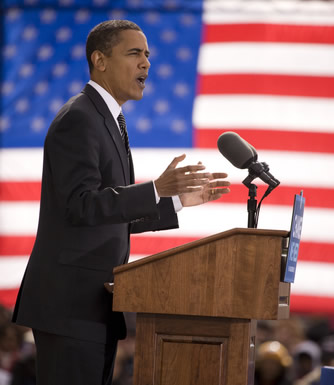 At the end of the day, foreclosures are a double-edged sword. Let's face it – the great thing about foreclosure properties is the ability to purchase homes well below market value. At the same time, if a home has been foreclosed upon then you can assume that someone lost their home.
Therefore, whether you are an average American trying to avoid foreclosure or a novice to seasoned investor looking to purchase discounted properties, you are more than likely interested in what is going on in the real estate market, especially when it concerns foreclosures. Even lenders are interested in foreclosure news as many abandon properties increase neighborhood threat (theft, fire, etc.) and therefore their liability.
Everyone seems to be interested in talking about the real estate market – everyone except the presidential candidates who need to be addressing the matter. That may be changing in the near future as President Obama can possibly take credit for progress toward real estate market recovery. Interested? Keep reading!
Foreclosure Filings Fall to 2007 Level
Over the last several years, many people have received notices of a foreclosure filing on their home due to the harsh economic times and real estate market crash that was primarily due to lender negligence. In September foreclosure filings fell to approximately 180,400 – which is the first time the number has been this low since 2007.
Furthermore, a look at September 2012 in comparison to September 2011 shows a 16% decline in foreclosure filings. These numbers clearly point out that real estate market recovery is occurring and the number of homes entering into the foreclosure process is dropping significantly.
Although many states with non-judicial foreclosure processes are making significant progress toward recovery, many judicial foreclosure states are still struggling due to the backlog of foreclosures (caused by the prolonged foreclosure process). As a result, many judicial foreclosure states are well behind non-judicial foreclosure states in terms of progress toward recovery. All the information taken together indicates that real estate market recovery is occurring nationally, albeit slower in judicial foreclosure states.
Obama and the Real Estate Market
These positive numbers indicating real estate market recovery and a sharp decline in foreclosure activity could potentially be great news for President Obama, who completely bombed the first presidential debate – lacking everything from charisma to the nerve to call out his opponent on numerous lies.
Couple the news of progress toward recovery with the tumbling unemployment rate, and things may be looking up for Obama.
Either way, the road toward Election Day is definitely heating up as both candidates strive to convince American voters to back their plans for everything from Healthcare Reform (or appealing the healthcare bill) to economic growth and deficit reduction.
Keep your eye on the debates to see what each candidate says about the real estate market when (if) the topic becomes a focal point.