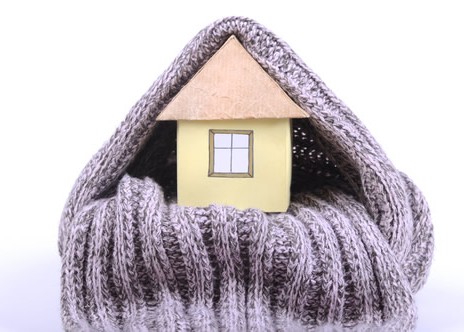 Every year when the winter season approaches, families look for ways to keep their homes warmer throughout the cold winter months. Believe it or not, there are some effective and cheap winterization tips that not only help you keep the warmth in and the cold out, but can also help you save energy. When you save energy, you save money.
Below are five home winterization tips to help you keep warm and save on energy bills.
Tip #1: Change Your Fan Direction
In the summer months, it immediately makes sense for you to turn on the fan to help cool off your home. However, did you know that you can reverse your fan so that the blades are turning clockwise for winter months? Since hot air rises, when you turn your fan so that it is turning clockwise the warm air is moved back toward your living space and away from your ceiling.
Tip #2: Protect Against Drafts
A few drafts in your home can skew your thermostat reading and therefore increase your energy usage and reduce your ability to stay warm. So, when looking for ways to save energy at home by keeping warm air in, it is essential to protect against these drafts. There are some simple and cost effective solutions to blocking out door and window drafts including invisible plastic window installation kits, caulk, and draft snakes for your door. These simple and affordable products can go a long way in keeping your home warm every winter.
Tip #3: Change Your Filters
In the winter months it is essential that you change your furnace filter on a monthly basis in order to promote air flow, which keeps your warmer (and saves you money). If you have a few extra dollars, then you may want to consider purchasing a permanent filter for your furnace—these filters do a better job of trapping debris than disposable filters and offer various other benefits as well.
Tip #4: Insulate Your Home
If you notice that each winter it is hard to keep your home warm, then it may be time to upgrade your home's insulation. The best thing about adding or upgrading your insulation is that it not only helps you to stay warm in the winter, but also helps you to stay cool in the summer.
Tip #5: Open Curtains and Window Shades
One of the best ways to keep warm in the winter months involves opening your curtains and window shades in an effort to let in as much sunlight as possible. This natural light helps keep your home warm and can cut down on your energy bill at the same time.
Now you know how to winterize your home in a way that not only helps you stay warm, but also allows you to save energy and money. By simply changing the direction of your fan, protecting against drafts, changing your furnace filter, insulating your home, and opening your curtains you can help your home stay warmer throughout the winter months and save on energy bills at the same time.