The foreclosure market continues to grow across the country, and rates are mostly either rising or remaining flat. But, in some areas, foreclosure rates are actually falling – although the reason may not be what you would think.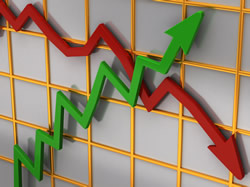 In Ohio and Florida, two states hit particularly hard by the foreclosure crisis (more so the Sunshine State than the Buckeye State), foreclosure rates on a year-over-year basis went up in April in some metropolitan areas. In the Youngstown Metropolitan Statistical Area, for example, rates increased by 0.66% from April, 2010. The new rate for the area is 4.72%, significantly higher than the national average of 3.47%.
A bit of good news is that the mortgage delinquency rate dropped by 0.29% – which, granted, may be too small to be of any significance.
The same story can be told in the Sarasota area of Florida. The rate for April, 2011 was 12.09%, a 2% increase over the past year. The mortgage delinquency rate also rose, to 16.48% from 16.23%.
In California, of all places, the foreclosure rate in some MSAs in the central part of the state actually fell. In Sacramento and Fresno, for example, the foreclosure rate fell by 0.1% and 0.01%, respectively. Six other metro areas had declining rates, with the largest decrease of 0.95% coming in Merced.
We can attribute the increases in Ohio and Florida to continuing economic conditions that caused the original waves of foreclosures to come through, sparking the foreclosure crisis. And we can more than likely chalk the rate decreases in California up to slower processing times and tighter foreclosure requirements.
In the end, a wide variety of opportunities to purchase discount homes exists in the current market, and as long as the foreclosure rate remains high – and the backlog of foreclosure homes remains strong – investors and homebuyers alike will have plenty of time to take action.