Within the next few months, an iconic high-rise apartment building in downtown Detroit – Riverfront Towers – could be sold at auction like thousands of other foreclosures in the metro area and elsewhere in the country, all as a result of the foreclosure crisis that is nearing its fifth year.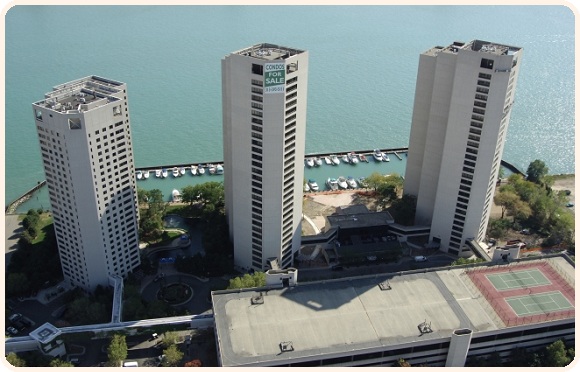 The complex, which features two towers (26 and 29 stories, respectively) and approximately 550 units, is nestled along the Detroit River adjacent to a commercial district that features the city's marina and other office and retail space. Unfortunately for the residents, the owners of the Towers just defaulted on a $55 million mortgage, leaving the future of the complex uncertain.
What's worse is that the complex – once a shining example of luxury living and affordable, market-rate living in the Detroit area – has been in various states of disrepair over the past two decades. So, anyone who purchases the 24-acre spread will have a host of problems to deal with in addition to negotiating with the mortgage's current owner, Fannie Mae.
Are there any interested buyers lurking in the shadows with enough capital to purchase what was once a promising piece of a stalled Detroit revitalization project from the 1980's? It's unclear at this point. The new landlord, as mentioned, will likely have to shell out a good bit of money to repair the facilities, and there is no indication as to what Fannie Mae's asking price will be for the property. (Note that the foreclosure only includes the first two towers, not the third tower that is a part of the complex.)
With a total alleged cost of well over $70 million, the property won't be cheap.
This is perhaps indicative of modern foreclosures, in that entire apartment complexes – even ones like Riverfront Towers with some rents in excess of $2,700 for celebrities, athletes, and politicians – are at the mercy of the auction block. This foreclosure, like many others, also comes with hefty pricetags in the way of repairs and renovations, and any buyer will have to serve as a landlord to a large community in the middle of a sluggish economy – which is not always an easy feat.
Someone will buy the property, though; even though it is in Detroit, the location and facilities are still worth tens of millions of dollars. Fannie Mae doesn't want to be a landlord, either, and isn't well equipped to do so. That could be one fact that is in the buyer's favor – both here and elsewhere with similar properties.