We track several indicators here to give you a good idea of where the market is heading and how you can take advantage of the trends and patterns evident in the marketplace. Two of those indicators include new home sales figures and existing home sales figures. These give a good idea of the overall health of the housing market as a whole, and when combined with insight into foreclosures, can give you a good picture of what you can expect in the market today.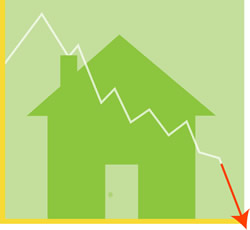 Numbers released today reveal that new home sales are estimated to have dropped 4%, down to 310,000 homes per year (adjusted annually). This is far below the 700,000 homes per year that most experts state is indicative of a healthy real estate market.
Over the last 24 months, sales of new homes have decreased by 18%. In 2010, especially, the results were particularly bad and that year was the worst year on record for new home sales. And since each new home, on average, is assumed to produce three jobs and $90,000 in taxes, they have a disproportionate influence on the economy over existing home sales.
Existing home sales, by the way, were reported to be lower than they were last month. The figure of 4.81 million per year (annualized) is roughly 3.8% down from April's figures, and a whopping 15.3% lower than last year at this time. Granted, last year's numbers were inflated by the first-time homebuyer's tax credit that the government offered that has since expired.
Still, neither of these figures is really good for the real estate market as a whole. But, they do mean, as usual, that now is a perfect time to invest or buy for homeowners and investors who qualify. Prices are incredibly low, demand is flagging, supply is high, and interest rates are about as cheap as they can get. With figures like these, buying should be a top option for those who have the means to do so.