With the sheer number of foreclosures and REOs on the market today – 1.6 million foreclosures and an estimated 458,000 or more REOs – banks have their hands full. Your average bank in a given area probably owns more distressed properties than they can handle, and the longer they stay on the books, the more costly they become to the lending company.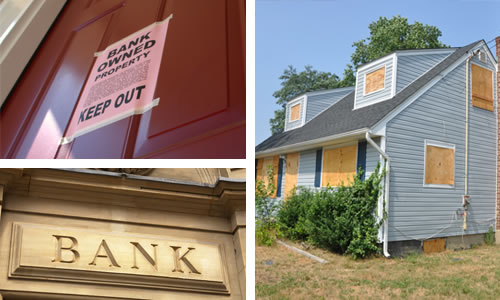 With the median mortgage payment coming in at $1,295 per month (in 2005 numbers), that is a lot of money leaving the bank's coffers every 30 days that is not being replaced. For this reason, REOs – homes that went to foreclosure auctions and did not sell, thus staying with the bank having full ownership – are typically viewed as great bargains for homebuyers and investors because of the cost associated with holding vacant homes.
Some banks, however, are not being good stewards of their properties. In fact, because there are so many on the market and so many to be taken care of – being maintained, painted, repaired, landscaped, etc. – banks often make the choice to save more money by cutting upkeep costs and simply leaving the property on the block, empty.
This seems counter-intuitive – why, after all, would a bank fail to keep up a home if it wanted to sell the property as quickly as possible? Surely a dilapidated property wouldn't be nearly as attractive to potential buyers as a well-maintained one. That would be entirely true if there were as many buyers on the market as there were in 2005 or 2006. But banks do not see scores of buyers knocking down their doors. As a result, they assume they can reduce their monthly outlays and save money by basically pretending the property doesn't exist – at least, until home prices begin to rise.
Unless this inventory of existing homes is reduced, though, home prices won't have an incentive to rise. That is the catch.
So, how can you benefit from this current situation? Remember that the market has a glut of supply and a shortage of qualified buyers. This means that buying REOs is a great way to gain access to terrific bargains obtained from strong negotiating positions.
If you find an REO, and you want to make an offer, you have the upper hand. Forget the list price. Start from a low offer and work your way up. The odds increase even further if the property in question is one that has been visibly neglected by the bank. If you put in an offer to purchase the home, even in its present condition, you could obtain incredible discounts off of the list price because you are removing a hefty monthly loss from their books – and they don't have to bother with maintaining the property or worrying about complaints from neighbors and communities alike.
Look at this situation as an opportunity, be aggressive, and make a move. You'll find that with buying REOs in this market, the advantage lies with you, the buyer, not the bank.