The foreclosure market has had a lot of activity lately, but has largely subsided in many areas of the country with lower foreclosure rates slightly below what they were a year ago. Still, even as banks slow their processing of foreclosure applications and homeowners engage in loan modification programs that stop foreclosures temporarily, foreclosures continue to happen and even pick up.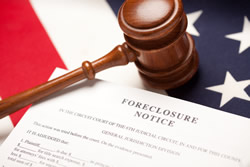 Those who thought the foreclosure tsunami has finally reached its high-water mark may be mistaken, especially if they live in Illinois. RealtyTrac just reported that foreclosure activity in the Land of Lincoln increased by over 5% from April to May. And while overall, from last year, activity fell 30%, this is largely attributed to banks experiencing processing delays than any real recovery.
Currently, Illinois has the ninth-highest foreclosure rate in the country. The highest rate belongs to Nevada, followed closely by Arizona, California, Florida, Georgia, Idaho, Michigan, and Utah.
Average processing times for foreclosures are also increasing. It is taking longer, on average, for foreclosures to be put through the system across the country than before. In Missouri, for example, it takes 151 days on average to complete a foreclosure. In 2007, that figure was at 107. In Illinois it is even worse. That state is a judicial foreclosure state, and the average foreclosure takes a whopping 497 days, up from 243 in 2007.
That means that the average homeowner can stay in their home for a year and a half before losing their property.
Plus, backlogs in Missouri and Illinois are two years and three years, respectively, meaning each state would take that much time to sell off all of their foreclosure inventory even if they stopped adding to the inventory today.
There is still a lot of foreclosure activity across the country, and foreclosure rates might pick back up before they go down for good. This just means more activity for homebuyers and investors shopping for a great deal.