The foreclosure crisis continues on for the fifth straight year, but for now at least, the number of foreclosures filed in this country by lenders dropped dramatically.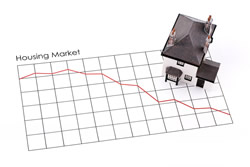 Numbers released today by RealtyTrac indicate that foreclosure filings dropped 2% from last month, and 33% from this time a year ago. This is the eighth month in a row that has witnessed a drop in filings, and far fewer foreclosures are being added to the market.
Home values are also down to an eight year low, falling on average by 3.6%. This is the lowest point since 2003 for the nation, and several states are far lower than that.
Foreclosure filings are low because banks are pushing back filing on many properties due to the foreclosure scandals that have occurred lately. They may not be sure who exactly owns the mortgage, since many have been sold off repeatedly to other entities. They also may be wary of incurring the wrath of government agencies and homeowners for filing improperly.
Home values continue to fall because the above situation has not yet been resolved. The foreclosure inventory is already incredibly large in most parts of the country. This foreclosure inventory or REO inventory weighs down home values in surrounding areas, thus putting many homeowners underwater on their mortgages.
Until buyers start buying en masse, and taking homes off of the shelves, banks will continue to have problems with selling the homes they have on their hands. Home values will still fall, and foreclosures will continue to be added to the market. The end result is a huge opportunity for investors and homebuyers who have the means to purchase property. The massive discounts will only grow and continue in some areas of the country, meaning that there isn't a better time to buy than now.