It's no secret that the foreclosure machine – a.k.a. the processing of thousands of foreclosure filings, evictions, and auctions on a weekly basis by banks and lenders across the nation – has been pretty much closed for business over the past year due to foreclosure fraud and other scandals.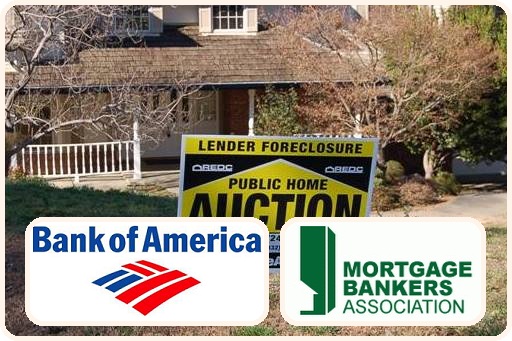 There is evidence, though, that it may be starting back up yet again – which means more foreclosures could be on their way.
Bank of America, for example, surprised a lot of people in the industry by sending out 200% more notices of default to homeowners in the month of August compared to July, a pretty dramatic spike considering how sluggish the foreclosure pipeline has been lately. We're not exactly sure if the bank will continue this pace, but it's off to a very quick start for the last part of 2011.
Others have noticed a roughly 33% increase in filings between July and August for the market as a whole across several states, mostly non-judicial ones. (Judicial states, like New York and New Jersey, are taking a bit longer to get started again.)
Of course, some of this could be seasonal – August generally marks an uptick in foreclosure filings. But it could also be the beginning of another flood of foreclosures to hit the market. The main difference between this new 'wave' and previous waves is timing; most of these homeowners who are being foreclosed on have already defaulted and would've normally already lost their homes in a regular market.
Case in point: Earlier this year, the Mortgage Bankers Association pointed out that 4.3 million mortgages were seriously delinquent – at least 30 days past due on a payment. While some of those 4.3 million have probably caught up (going 30 days past due on a mortgage payment is not nearly as ominous or foreboding as it once was), the vast majority will more than likely begin the foreclosure process at some point.
Our analysis of the situation is this: We expect to see foreclosures increase, and will probably see the number continue to rise through the beginning of 2012. There are simply too many defaulting homes for banks and lenders to ignore. With legal entanglements getting more or less out of the way, lenders will want to push through as many underperforming assets as they possibly can before prices drop significantly due to the upcoming glut of housing supply.
All of this is good news for investors and homebuyers who want to ride a new wave of foreclosures to its inevitable conclusion: Plenty of cheap homes available for pennies on the dollar.