Before the advent of the Internet (which seems like it's been around forever), real estate transactions were carried out the old-fashioned way. If you wanted to find a prime property for real estate investment, or wanted a new home, you either called up a real estate broker in the Yellow Pages (remember those?) or went driving through neighborhoods in search of homes with signs out front.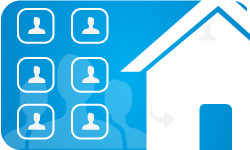 Now, the signs out front are in the form of online listings, not just for traditional homes for sale but also for foreclosures. Foreclosure listings in particular are very valuable because they give you a chance to find, at a glance, a roster of potential wealth-building opportunities in a geographic area.
For those who have been in the real estate industry for years, this innovation was dramatic in its own right. But now, the industry may be going through yet another shift as brokers, agents, buyers, sellers, and investors start utilizing another tool: social media networking.
We've written previously on how lenders are starting to use Facebook to deliver foreclosure notices. And real estate brokers have started to embrace the power of Facebook, Twitter, LinkedIn, and other social networking websites.
Now, a new website called Dwellicious is making a name for itself in the online real estate community. Dwellicious is similar to Delicious in that it allows users to tag and bookmark real estate properties online just like Delicious does websites and blogs.
Today it was announced that Dwellicious was purchased by VHT, a big name in the real estate marketing industry. VHT provides online marketing services for the industry and claims to serve over 75,000 real estate professionals today.
Just think about that for a moment – over 75,000 real estate agents using VHT's services, which now includes Dwellicious.
This transaction shows just how powerful the Internet is when it comes to real estate properties online and creating mass visibility for properties. In a few minutes, an agent can upload a listing that, through social media tools and sites like Dwellicious, can be viewed by tens and hundreds of thousands of people all across the World Wide Web.
When shopping around for the best traditional home and foreclosure deals, this kind of advantage is hard to beat.
What will be the next development in the real estate industry and the internet? It's hard to predict – the world changes so much, so quickly – but whatever it is, we're sure it will make an impact and make finding terrific real estate and foreclosure deals easier than ever before.