No one can say that the federal government is usually creative. But, with its recent foreclosure rental scheme, it may be earning that label.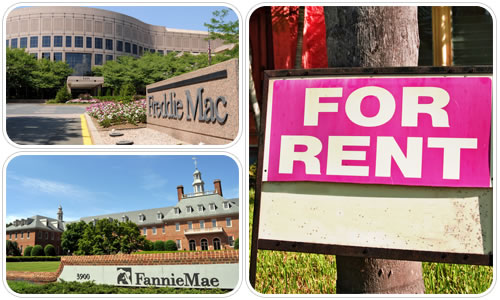 The federal government, earlier this summer, let it be known through various channels that it was considering turning tons of government foreclosures into investor-led rental properties. After all, Fannie Mae and Freddie Mac, along with the FHA, own roughly 250,000 foreclosures, with another 830,000 distressed properties that are in the foreclosure process.
Now, the government is planning to move forward with the idea and publicly announcing, for the first time, its intent to solicit proposals from investors on how they can make this happen.
What form will the proposal take? It's unclear – they haven't yet made up their mind. But, it could be a situation in which investors gain access to hundreds (maybe even thousands) of foreclosures in a package to use as rentals. Another idea is to let investors pick up foreclosures for rentals on a case-by-case basis with perhaps a property manager contracted by the federal government.
Either way, it is a golden opportunity for investors to enter into the real estate market and profit off of the massive backlog of foreclosures on the market. These homes are eating into the budgets of not only lenders, but also government agencies. It's in their best interest to unload them – which means it is in your best interest to pick them up.
How much can you conceivably make off of a foreclosure rental? If you buy the home outright with cash, you can price the monthly rent at whatever price point you want – assuming people will pay it. Of course, if you finance the loan – or even buy it outright – the rent will be largely set by the market.
Look for a home that is decent repair, in a good part of town, and comparable in value and rent to other similar rental properties. Assume a profit margin of 1% per month as a target. Calculate the home's capitalization rate and net operating income using real estate financial calculators and you can see how much you can potentially make in the market.
The cheaper the home, generally speaking, the more income an investor will pull in per month. With the amount of foreclosures about to be turned into rentals on the market, this number could result in a very comfortable lifestyle at a minimum for investors and entrepreneurs alike.