Mortgage defaults are up in some parts of the country, while as a whole, the number of mortgage modifications are down, according to a variety of sources.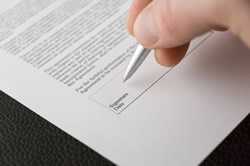 In states like Idaho, where foreclosures have come en masse over the past few years, mortgage defaults are up and still high, even though in some places they have dropped from the highs seen in 2009 and 2010. In Idaho, for example, there is approximately one mortgage default per day. Approximately half have went through the foreclosure process to become REOs; the other half either made good on their payments, went the short sale route, or provided deeds in lieu of foreclosures.
Elsewhere, the amount of loan modifications that have been either attempted or fulfilled is down. Mortgage modification rates have dropped 10.5% since 2010. Roughly 557,000 homeowners received some kind of help in the first quarter of 2011, and about 53,000 new loan modifications were issued in the same time frame – down 47% from a year ago.
We can see some indications of a disturbing trend here, if we put two and two together. Mortgage defaults are up in some areas, meaning there are still economic conditions that are forcing the hands of homeowners who have found themselves in tight spots. These homeowners also, on average, are not getting the help they need through loan modification programs (although many do receive help from these programs).
We can only guess at the impact on the market, but suspect that the market will continue to be flooded bit by bit with distressed properties as the shadow inventory being built up by these two combined factors continues to enter the market. This will keep prices depressed, meaning steep discounts are to be had for investors and homebuyers willing to work a little simple math and get into the local real estate market.
High defaults, low loan modifications, and high unemployment will all combine to keep the foreclosure market going strong.