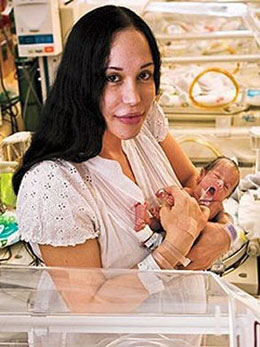 The word "foreclosure" is not new to anyone in this country, especially after the last few years. To some foreclosure is synonymous with investment opportunities and to others the word means possibly losing their home. Over the last few years we have come to learn that nobody is immune to the possibility of foreclosure, including celebrities. The infamous Octomom is now facing a possible foreclosure of her own.
Everyone knows the current nation's economy lends itself to several challenges as families across the country strive to pay their mortgage and other bills on time. Octomom, Nadya Suleman, has unique challenges during this time since she is a mother of 14 children and is now learning that she too is facing foreclosure and may lose her family's home.
When learning about the possibility of foreclosure, many families will look into home loan modification or short sale opportunities; however, Octomom took a unique approach and is holding a bikini carwash later this month to raise money to save her home. She plans to make around $25 per car in her initiatives and will have a posse of celebrities like Charlie Sheen and Tila Tequila by her side. Clearly, the carwash is more than just an effort to save her home from foreclosure, but to show off her "natural" body despite having 14 kids—8 at one time.
All of this news is released just days after her doctor was notified that his license will be revoked due to his negligence;he will officially lose his license at the beginning of next month.
In the end, Octomom has been facing the possibility of foreclosure on her California home over the last year, but is no longer able to evade eviction and therefore has to do her best to keep her home for her and her kids. The carwash is Octomom's first step in trying to save the $565,000 property.