The foreclosure settlement that has been raging between banks, states, and the federal government for close to a year now is still slogging through knee-deep mud, but in one state, an agreement has been reached regarding foreclosure processing.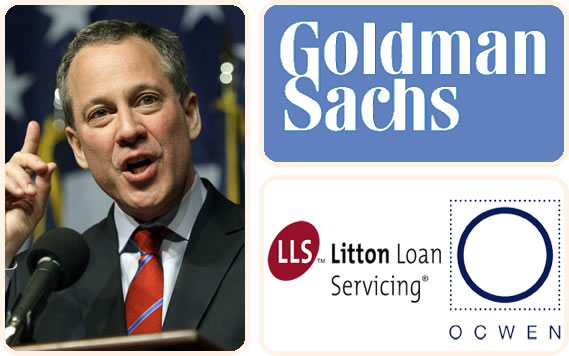 New York officials announced today that they have reached an agreement with Goldman Sachs and two other financial firms tied to Goldman Sachs. In the agreement between these companies and the state's financial services superintendent, the practice of robo-signing will be ended in the state. Furthermore, Goldman Sachs, Litton Loan Servicing (a subsidiary of Goldman Sachs), and Ocwen Financial Corp agreed to inspect their files for other potential discrepancies and also partly reimburse some New York homeowners by lowering their monthly mortgage payments.
There does not appear to be a fine or penalty associated with this settlement, although the principal reduction amount would total $13 million.
It is interesting to see the parallels between this case and the far-larger case pending currently in Washington. The settlement between the states and the five banks at the heart of the robo-signing scandal – JPMorgan Chase, Wells Fargo, Citigroup, Bank of America, and Ally Financial – has ground to a halt over legal liability from future lawsuits and most recently made news when the New York attorney general, Eric Schneiderman, was unceremoniously booted from the settlement committee.
By contrast, Goldman Sachs worked out what most would consider a favorable agreement with a New York regulator without the same drama or circumstances. Of course, the settlement was largely reached due to the fact that a merger between Ocwen Financial and Goldman Sachs-owned Litton Loan Servicing depended on the state superintendent signing off on the deal. Still, it demonstrates the fact that settlements can be reached if the conditions are right.
At stake are millions of foreclosures and pre-foreclosures hanging in the balance worth billions of dollars, in a market that has become incredibly congested and frustrating for sellers and homeowners. Even buyers would benefit from foreclosure processes starting up again, and that could be what happens in New York with this agreement – at least from one bank.