Everything You Need to Know about Super Jumbo Mortgages
Extra Large. Triple double, double. Huge. Ginormous. Super-sized. Everywhere we turn nowadays we are confronted with larger than life versions traditional classics. From fast food meals to oversized books, it's hard to get around the bigger is better mentality in modern culture. And with increasing cost of living and shrinking availability of properties in the main metropolitan areas, it seems only natural that mortgages would be the next to the XXL category of products.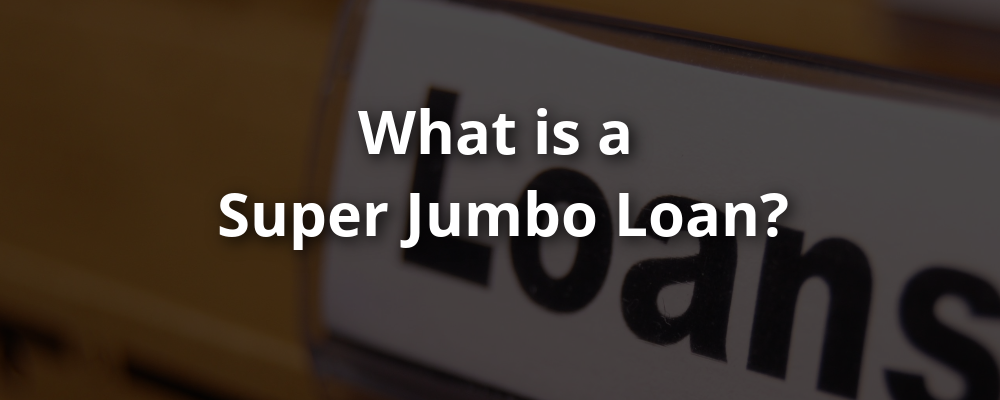 Enter the super jumbo mortgage. While this addition to the stable of available mortgage options may have an over the top name, in reality, super jumbo mortgages (so-called for their size) are becoming increasingly common in today's real estate and housing market.
So just what types of loans qualify as super jumbo mortgages and why would anyone ever consider taking out one of these monstrous sounding financial instruments? Read on for these answers and more as we tell you everything you need to know about the super jumbo mortgage market.
What Are Super Jumbo Mortgages
In order to talk about just what super jumbo mortgages are we first need to speak about traditional loans to provide a necessary backdrop. Traditional, or confirming loans are those that meet certain criteria that are set by the Federal Home Loan Agency's (aka Fannie Mae and Freddie Mac) guidelines for what counts as typical, median or otherwise standard mortgage terms across the entire county.
Generally, these guidelines specify which types of loans the Federal government will ensure based on them meeting the criteria for being unexceptional, which in government-speak, equals low risk. Mortgages have many factors which could make them non-conforming such as term length, loan to value ratio or general purposes.
One of the main criteria used to determine whether or not something is a conforming loan is the total loan amount. The conventional loan amount is set by the federal government based on the average of home prices across a variety of cities and states. Currently, conforming loans in terms or dollar value are those who are under $424,100 in total amount borrowed.
While this may seem like a large sum of money, in truth, depending on which area of the country you reside, this may not get you much regarding housing.
Advantages
The benefits of super jumbo loans are clear. The ability to take out this type of loan widens the types of properties you can consider buying and allows potential homeowners to find higher priced units while still qualifying for lower interest rates and other terms when it comes to their mortgage.
If a home buyer was unable to obtain a loan for under the threshold amount the federal government determines should be eligible for protection under various insurance and guarantee policies, the buyer's options for free movement across states and the ability to find a job or expand their career in another area of the country would be significantly limited.
In areas of the country such as New York or California, housing prices can be double or triple the federal conforming loan amount.
In New York City, apartments will run you $750,000 just to start with luxury condos pricing near $2 million.
Without super jumbo loans, potential homeowners would be out of luck if they wanted to take out a traditional mortgage to purchase one of these properties which may be located close to their work and friends.
Options
Deciding between a conventional mortgage and a super jumbo mortgage may be a tough decision for many homeowners. If the home you are considering purchasing is more expensive than typical conforming loan amounts, then your options will be limited to financing methods.
That is unless you happen to have an excess of cash laying around. Super jumbo loans do have other financial benefits for those who are fiscally savvy.
Before you choose this mortgage type, speak to a realtor and consider bringing in a financial advisor for a consultation.
Credit History
Due to the size of super jumbo mortgages, typically to qualify for this type of loan, you will need an excellent history.
We're not talking the kind of credit score that gets you approved for that credit card for your favorite department store. Super jumbo mortgages are typically reserved for those in the top 5-10% with scores in the high 700's to 800's.
Your credit should be free of bankruptcy, defaults or late payments.
Also, banks will scrutinize applicants' debt to income ratio to ensure that they have sufficient disposable monthly income and remaining monthly reserves.
Loan Terms and Amounts
While technically any loan over $1 million dollars is considered a super jumbo mortgage, there is no top end limit on the size of the loan you can borrow. In the upper range, loan values tend to be a sliding scale of size to interest rates.
Borrowers of super jumbo mortgages will often pay a full 1-2% higher interest rate on their loans that top the $2million mark.
On the upside, super jumbo loans traditionally have very different repayment terms from the conventional loan. A conventional conforming loan is usually paid back over 30, or sometimes 15, and monthly payments go towards principal and interest with a smaller amount of principle being paid out at the beginning of the loan term.
Also, conforming loans tend to be fixed interest rates, which means the amount you pay in interest will remain the same regardless of market fluctuations.
In contrast, super jumbo mortgages have a variable or changing interest rates that may rise or lower over the life of the loan in response to the Fed rate or other lending or market conditions.
Super jumbo loans for houses are also short term 5 or 10-year loans. Finally, the required payment on a super jumbo mortgage is typically interest only. This lowers the overall payment amount, but also means you won't be making payments towards your principle unless you choose to.
| | Loan Limits | Down Payment | Credit Profile | Repayment Terms | Mortgage Insurance | Interest Rates | Fixed or Variable Interest Rate |
| --- | --- | --- | --- | --- | --- | --- | --- |
| FHA Mortgage | $625,500 | 3.5% - 5% minimum down payment | <700 credit accepted | 15 or 30 year options | Yes, for the life of loan | Standard market rates | Fixed |
| Conventional Fixed Rate | $625,500 | Typically between 10-20% | Good credit will receive preferable interest rates. Typically need >700 | 15 or 30 year options | Only if LTV ratio exceeds 80%. Typically removed once LTV is above this amount. | Standard market rates with discounts for good credit | Fixed |
| Conforming ARM | $625,500 | Typically between 10-20% | Good credit will receive preferable interest rates. Typically need >700 | 5, 10, 15 or 30 year options | Only if LTV ratio exceeds 80%. Typically removed once LTV is above this amount. | Discount over standard market rates for intro period. Higher when rates adjust. | Adjustable, typically yearly but sometimes monthly or fixed for 2, 5 or 10 years, then adjustable |
| Super Jumbo Mortgage | No upper limit but interest rates increase significantly above $2 Million | 20% | Excellent credit needed | Typically 5 or 10 year terms | Yes | Rates dependent on loan amount, LTV ratio and credit score. Vary widely, but typically slightly below average for loans under $2 million | Adjustable |
Eligible Property Types
Like traditional loans, super jumbo mortgages can be used to purchase most residential homes. They can also be used to refinance an existing loan, in some case allowing borrowers to pull cash out of their home's equity.
The loan amount of your mortgage as compared to the value of your home is known as the loan to value ratio or LTV. Super jumbo mortgages typically require much lower LTV ratios.
In an outright purchase, this may require paying 20% or more as a down payment on your home. In a refinance to a super jumbo mortgage lender will often require several appraisers to visit the property to assess the value before they will "write" your loan application.
Conclusion
While super jumbo loans certainly have additional hoops to jump through when compared to traditional conforming loans, the benefits of this type of mortgage could be worth it for those in certain financial situations.
Also, in some parts of the country, it would be difficult to purchase any home without these types of loans given the cost of housing and lower inventory in conforming properties. As a recap, here are some of the highlights of Super Jumbo Loans:
Considered anything above the conforming loan threshold (currently $424,100 or $625,500 depending on what area of the country you live in)
Allow for larger loan amounts
Payments go towards interest only, no principle
Must have excellent credit
Typically shorter in length (5 or 10 years)
Adjustable rates or ARM
Can be used to purchase or refinance a home
Will need a large down payment (at least 20% of the total purchase price)
Before signing on to one of these extra large, super duper, huge, jumbo type mortgages you should consult with an expert in both real estate and finance.
The ARM aspect of super jumbo loans, along with the required LTV limits and credit history can prevent hurdles but also economic advantages, depending on your situation.