What is a Real Estate Broker?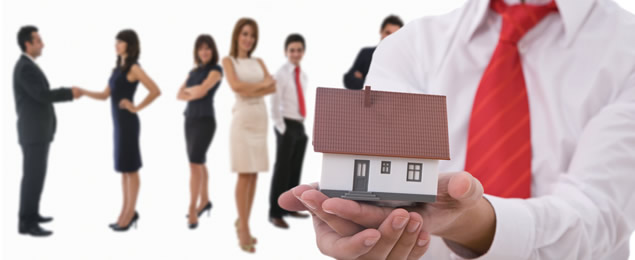 A real estate broker (often called a real estate agent or Realtor) is someone who is the intermediary between the homebuyer and the property owner. These brokers can act as the buyer's agent or the seller's agent, depending upon who contacts him or her for their services.
What Do Real Estate Brokers do?
These real estate brokers, when acting as the buyer's agent, help the homebuyer find properties in the target area that meet the price range and specifications required by the person searching for a new place to call home. When acting in this role, the broker often helps the homebuyer assess the property and negotiates on behalf of the buyer. More often than not, the fee for their services is in the form of commission on the sale and is typically paid by the property owner.
In addition to representing buyers, real estate brokers also represent homeowners and help them sell their property. From marketing the home and setting up the property on multiple listing services to negotiating on behalf of the sellers, brokers play a large role in helping their client sell their home. More often than not everything from staging advice to recommendations for minor repairs will be made by the seller's agent throughout the process.
Difference Between Real Estate Agent and Broker
Many times people will use the terms "agent" and "broker" to mean the same thing. Although they can perform the same roles, brokers tend to have more training and education than agents do. The specific differences, certifications, and annual dues will vary depending upon the state.
Advantages of Using a Broker when Buying a Foreclosed Home
When purchasing a foreclosed property for personal or investment purposes, there are many advantages to having a home broker on your side. Even if you are purchasing properties at a discount, a broker can assist with everything from locating foreclosures to scheduling a time for you to view the property. Plus, a broker can handle all negotiations throughout the process and guide you along the way, which is highly recommended especially for first-time homebuyers.
What Is a Commercial Real Estate Broker?
More often than not, a broker can operate in the residential or commercial real estate market. The main difference is that residential brokers are responsible for disclosing any information they have about the property – it is the responsibility of the seller's agent to disclose property details. On the other hand, when it comes to commercial real estate the disclosure process falls on the buyer's agent.
Although one license may cover both residential and commercial capabilities, most real estate brokers will choose a specialty and it is recommended that you search for the broker that practices in the area in which you are looking to invest.
How to Hire a Good Real Estate Broker?
When searching for a good broker – whether you are the buyer or seller – it is important that you take into consideration everything from recommendations and reviews to price. Most people start their search by taking recommendations from friends and family members. Then they go online and search for local brokers to round out their list.
After you have a list of brokers in your area, then you can start learning more about them online and narrow down your list to only include those with good reviews online or by word of mouth. Then, call the broker and ask them pertinent questions including how they work and their rate.
Once you have gathered all of your information and have asked the right questions, then you can select the broker that best meets your needs and has a price that is fair and on par with industry standards.
In conclusion, if you are a first-time homebuyer or someone who does not understand the ins and outs of real estate, then you more than likely want to hire a broker to help you throughout the home buying process. The same is true for home sellers. Brokers can be incredibly helpful for both buyers and sellers and help increase the chances that the home buying or home-selling process will be as easy as possible for all parties involved.
Search Bank Foreclosures by Top States:
Search Bank Foreclosures by Top Cities: