Considering DIY Home Projects to Improve Curb Appeal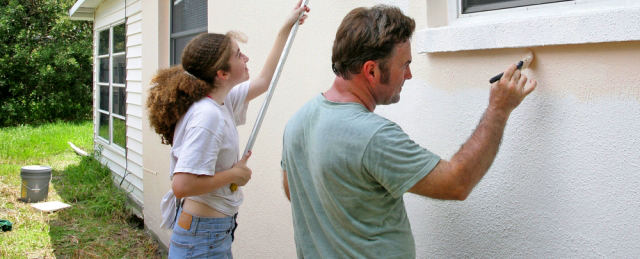 Are you looking to buy a foreclosure property, spruce up your existing home, or prepare a property to sell it on the housing market? If so, then you may want to consider DIY home improvements to help get the desired appeal for a fraction of the cost of hiring a contractor.
There are many resources (articles, videos, etc.) available to those looking for DIY tricks. From painting to extensive exterior remodels, choosing to do it yourself is often a much more affordable way to repair a home and can often increase the value of your property as well as the overall appeal.
One of the most popular DIY categories for homeowners and investors alike are exterior home improvements that can increase the curb appeal of your property, which gives off the first impression. Here you will learn about some common DIY home improvement projects.
Determining What You Can Do

Before you start your home renovation project, you should first determine if what you are looking to do is something that you can do yourself or if you should hire an expert. For example, if you do not have electrical experience then it may be best if you avoid lighting; on the other hand, there are a lot of things that you can do yourself if you have the time and will save you money by not having to hire a contractor.
For example, there is a surplus of DIY home décor ideas that are not only incredibly cheap, but can be done by just about anybody. The following are some of the most common and easiest DIY home repairs:
Painting
Landscaping
Caulking
Replacing light switches
Patching cracks in concrete
Repairing gutters
Refinishing decks
Therefore, hiring someone for one of these projects or purchasing the home décor items instead of making them yourself often costs a lot more. If you are looking at fixing up a distressed property for personal or investment purposes, do what you can yourself and only hire a contractor when the task exceeds your abilities.
Windows/Doors

Colored windows and doors are a great way to improve curb appeal as well as to capture the attention of homebuyers when selling a house.
One way to increase the overall curb appeal of your home is by improving the look of your windows and doors. There are some very cheap decorating options, such as window boxes, that are easy to do but can go a long way in increasing the exterior look of your home or investment property.
Along with adding decorative items, painting trim and siding with one of many appealing home color schemes is an easy and inexpensive DIY exterior home decorating option that can transform the way people view your home.
When it comes to painting the doors and windows of a home, most people feel confident in performing these tasks without expert assistance; however, it's easy to find a variety of step-by-step instructions for everything from replacing window sills and frames to installing doors online, for example. Therefore, before you hire a contractor to make the window and door upgrades you desire, see if you can do it yourself first.
Roof
By far one of the most expensive home remodeling projects is replacing the roof. More often than not people immediately hire a professional for this job; however, simply repairing the roof yourself or cleaning off the stains can help with improving the way your home looks on the outside. Plus, most roof repairs, including installing roofing skylights, can actually be done without hiring a specialist – saving you money.
Decks and Fences
In addition to the home itself, everything from adding fencing and decks to refinishing your existing structures can improve the overall feel of the home's exterior. Furthermore, quick and easy décoradded to your deck or patio can not only help with showcasing possibilities for the space (for sellers and investors), but can also allow you to create themed social areas for entertaining guests (for homeowners).
Gardens and Landscaping
Like decks and patios, a home garden and landscaping can heighten the appeal of the outdoor area associated with your home. A properly manicured lawn with fresh-cut grass and trimmed shrubs can significantly increase your home's appeal. Fortunately, most simple gardens and landscaping tasks can be completed without a professional. For example, simple gardening tips are easy to come by and your local florist will be able to point you in the right direction for flowers and plants that are ideal for your environment. Similarly, there is a plethora of resources about landscaping – such as adding mulch – that are affordable and highly effective.
At the end of the day, enhancing and maintaining your home's curb appeal is important for giving off a good impression and can go a long way in helping to attract buyers for those looking to sell their home now or in the near future. From doors and windows to roofs, decks, and gardens, the exterior of a home can often be spruced up without hiring a specialist and on a tight budget. When looking to save money on exterior design and décor, learn what you can do yourself before hiring a specialist.