Improving Your Front Door and Entrance Area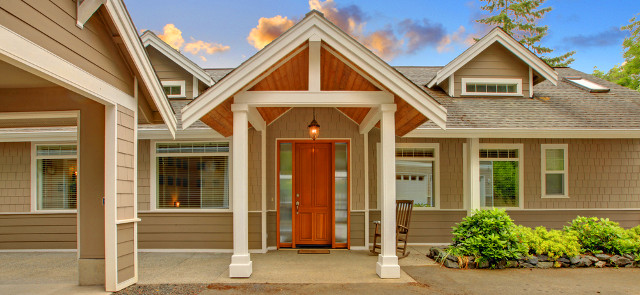 The front entry to your home can go a long way in increasing the overall appeal and impression of your home. Fortunately, there are simple updates and improvements that you can make to your front door and entrance area on any budget by doing it yourself.
If you have a new home you are looking to spruce up, or you are making renovations to help increase the curb appeal of your foreclosure investment property, then consider DIY cosmetic changes to your home's entrance.
Choosing the Front Door Color and Design

One way to make your home stand out is rather simple and incredibly affordable – simply changing the colors and designs of your doors can transform your home's first impression. In fact, you can often paint your exterior door, shutters, and house trip all for under $100. Similarly, doors are rather affordable, allowing you to get a nice exterior door design with decorative glass between $200 and $1000, with a basic door design being the most affordable and multi-panel glass doors often costing a couple thousand dollars.
However, you should be strategic when selecting both the color and the design. In addition, you can often save money on these doors by getting them unfinished and painting them yourselves – an easy and cost-savings DIY project that can increase your home entry appeal.
Regardless of the door design that you choose, the color choice is essential. When choosing the color, make sure you remember to choose an accent color that compliments your home. Some of the most popular door colors include shades of red, green, blue, yellow, orange, black, and brown.
Check out the video below for more tips on choosing front door colors for your home.
Lighting and Accessories
Along with the color and design of your front door, outdoor lighting and accessories can also enhance your home's appeal. For example, after painting the door, updating your house numbers can also help increase curb appeal. Similarly, using light fixtures above the door and near your entrance can transform the way your home looks – especially at night.
Some of the most common outdoors accessories for your home's entrance include the following:
Light fixtures.
House numbers.
Planters.
Statues.
Walkways.
Door knockers.
When it comes to enhancing your front entry with accessories and creative lighting, your options are endless and when you choose to do it yourself, you can save a significant amount of money and get the same great curb appeal.
At the end of the day, your home's appearance is key for a good first impression. Fortunately, you can spruce up your home's appeal with some simple do it yourself projects to enhance your home's entrance. From painting your door to adding house numbers and other creative accessories, updating the front entry can be a fun project with amazing results.