Buying Homes Sold "As Is"
If you are interested in real estate investing, or if you are a homeowner looking for cheap properties that fit within your budget, then you may wish to consider purchasing distressed properties. These properties are foreclosures, short sales, and other homes that are often in need of minor to moderate repairs, but can typically be purchased below market value making them bargain homes.
More often than not, these homes are sold "as is".
What Does "As Is" Mean?
Regardless of whether you are an investor of potential homebuyer, if you are looking for foreclosed homes for sale, you will more than likely be purchasing the property "as is." What, exactly, does that mean?
Simply put, when you purchase foreclosures, the lender typically wants to sell the home without having to make any repairs to the property. This notion is slightly different from purchasing a home directly from the seller. When buying a house from a homeowner, you can often negotiate repairs throughout the process. For example, if the walls need painted you can require the seller to paint the walls before closing on the home.
Since lenders typically do not offer this option, it is essential to note when you purchase properties that have been foreclosed upon that you are typically purchasing the home in its current condition or "as is."
Are Properties Sold "As Is" A Good Deal?
The short answer to this question is it depends. The great news about purchasing fixer upper homes is that often these homes are listed below market value and if you find a property that only needs minor repairs (such as painting the walls) then you can potentially get a great deal on the home.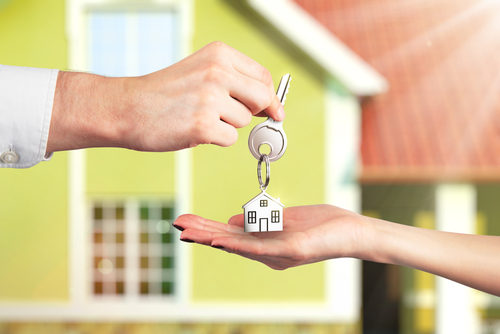 Tip: Grant a bigger deal by finding a house that needs minor repairs.
It is highly recommended that when you are purchasing foreclosures or other properties that are sold "as is", that you get a pre-sale inspection of the home so that you know what "as is" means in this situation. For example, if there are major repairs to be done to the property then you will want to know before you make the purchase rather than afterwards.
When making an offer on a property that is being sold in its current condition, you can make the purchase agreement contingent upon the inspection. Adding this to the property offer will allow you an "out" if the inspector determines that the property is not in as good of condition as you originally thought.
At the end of the day, if you are able to find foreclosures that only need minor repairs, then they are often cheap houses that are ideal for investors or homebuyers on a budget.
Are Disclosures Required?
Another common difference in "as is" properties is that the lender is not required to disclose information to the homebuyer. More often than not, the lenders are not completely aware of the condition of the property.
Therefore, when purchasing foreclosures and other properties that are sold "as is", it is basically on the buyer to make sure the property is in the desired condition. This goes back to what was discussed earlier, which is making sure to get an inspection of the property to make sure you are making a smart investment decision.
With that being said, although many states put the burden of finding out property issues on the buyer when they purchase a property "as is", this varies in some states. Therefore, make sure you learn more about the laws in the state before making your purchase – in some states the seller may still be obligated to disclose known property issues.
How Much To Offer For a House For Sale As Is
If you have found a discount property that is being sold "as is" that you wish to make an offer on, how much you will offer will depend on a variety of factors. Everything from the condition of the property to how long the home has been on the market and the current value of the property will need to be taken into consideration. As a result, it is often recommended that you obtain a realtor or broker who specializes in foreclosures to help you navigate the offer and negotiation phase. This is especially true if you are trying to purchasing a discount property in a competitive market in which there will be many people bidding on the same property.
Regardless of the situation, never make an offer that exceeds the value of the property if you are looking for a good investment opportunity and make sure you do not overextend yourself finally with your offer.
At the end of the day, there are many advantages to purchasing a property "as is" including the ability to often obtain these homes for a great price that is below market value. Just make sure you have the property inspected and you know what condition the home is in before you sign the contract at the closing table. Happy investing!